Posted by Royce Young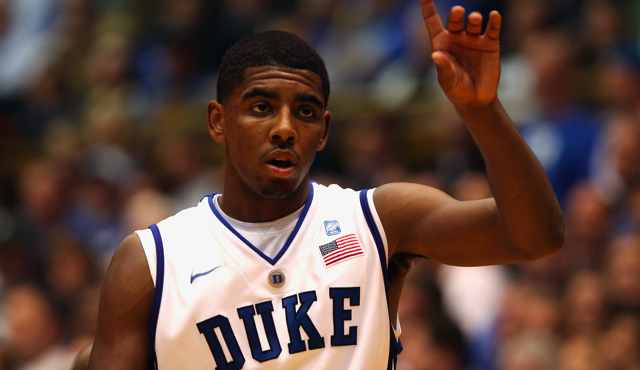 If you missed Thursday's bunch, be sure to catch up.

Kyrie Irving, Duke:
After word got out Irving was set to play in Duke's opening round game, I would imagine about 300 scouts changed their flights and credential requests to get to the Blue Devils' game.
Irving has sat out most of Duke's season with an injured toe and as a player projected by many to be the top overall pick, this is a chance to finally get a look at him.
He's a dynamic point guard that's smooth with the ball, makes great decisions and can score at the basket. He's not as fast as
John Wall
,
Russell Westbrook
,
Derrick Rose
or even Kemba Walker, but Irving is always under control and he has a great change of pace.
Nobody will have eyes closer on him than Irving. He might not play much but every step he takes will be recorded and dissected. In the limited minutes he gets, if he plays well and just does what he did in those first seven games of the season, he'll likely cement himself as the No. 1 overall pick.
Plays vs. Hampton (3:10 ET, truTV)
Jared Sullinger, Ohio State:
Here's your big man to build around. He's not huge at just 6-8, but he's wide, strong and athletic. He's always active, has great hands and has some offensive game to him.
He's a top-five pick for sure but he's also the type of guy that could push for the top spot with a couple strong efforts. He's the backbone to the best team in the country and the No. 1 overall seed. He mainly scores in the paint so a jumper is needed in his development, but there's always time for that as he's just 19.
Plays vs. Texas-San Antonio (4:40, TNT)
Derrick Williams, Arizona:
Williams has sort of climbed his way up a lot of draft boards the past few months, showcasing a well-rounded game that features him inside and out.
He's big at 6-8, but has a nice touch. He's a good college 3-point shooter and while he'll likely extend out and be a threat there in the NBA, he's going to be a terrific pick-and-pop option. Where he lacks is rebounding and interior defense. He'll likely play power forward at the next level and he's not really built to handle a lot of the NBA's big men. He reminds be a bit of
Jeff Green
in a way.
He's caught a bit in between because he might not be quick enough to play small forward, but no big enough for power. He'll be fine though because of his unique offensive skills though.
Plays vs. Memphis (2:45, CBS)

John Henson, North Carolina:
Nobody needs to eat a hamburger quite as much as Henson. He's rail thin and that's the No. 1 thing holding him back. He needs to add muscle, and a lot of it.
The comparisons to former Tar Heel teammate
Ed Davis
are natural because they're built similar and play close to the same way. Both are limited offensively but have great length and terrific instincts. He has a ways to go before he makes an impact in the NBA, but the skills are there. He just has to be developed.
Plays vs. LIU (7:15, CBS)
Jordan Hamilton, Texas:
Hamilton overcame his biggest issue this season in that he had no idea how to play with four other guys on the floor. Coach Rick Barnes constantly was pulling Hamilton out of games last season to try and get his attention for taking wild, contested shots. Nobody encapsulated "ball hog" more than Hamilton.
But he fixed things this season and turned into one of the nation's most efficient and deadly scorers. He can shoot which is probably his greatest weapon. When you're big like Hamilton (6-7) and can hit 3s like he does, you're going to have a next level chance.
He's improved in getting to the line and scoring from mid-range, which is what makes him intriguing. He's hard to figure because it's hard to tell if his scoring abilities will translate. He's a natural scorer and by the looks of it will make a good pro. But a strong tourney could definitely create a little more buzz.
Plays vs. Oakland (12:15, CBS)

Marcus Morris, Kansas:
This is prospects to watch and that will be a challenge with Morris because you won't be able to tell if you're looking at him or his twin brother Markieff. Both are good, but Marcus is more of the high first-round NBA talent. (Though Markieff will likely go in the first 30 picks too.)
He's a solid 6-9 big man with college 3-point range, ball-handling skills and solid athleticism. He's going to be a good pro, it's just a question of how good.
Plays versus Boston (6:50, TBS)