New York Knicks forward Carmelo Anthony is confused by his team's defensive schemes. Posted by Ben Golliver.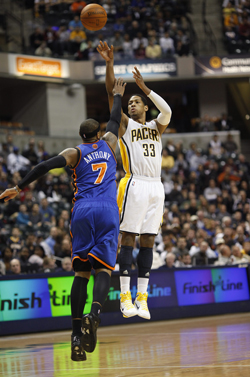 The honeymoon period from the NBA trade deadline has worn off and the teams that made big moves are at the point where it's time to assess how their new look is playing out. For the New York Knicks, it hasn't been all positive, particularly because the team has struggled on defense, losing three straight games and giving up more than 100 points in their last five games.
New Knicks forward Carmelo Anthony points the finger at the coaching staff, saying the team's defensive schemes are too complicated and inconsistent,
according to the New York Post
.
In another sign of Carmelo Anthony's struggle to learn coach Mike D'Antoni's defensive system, the Knicks' new superstar said he hopes the coaching staff will simplify the X's and O's to make it easier for the new guys, saying it's been "confusing."
"[We have to] come up with a scheme or a couple of schemes we're going to stick with and do better at," Anthony said yesterday. "Right now, one game we come in with one scheme. Another game we come in with a different scheme. I think it's a bit confusing at times."

"We're all frustrated," D'Antoni said. "We have to get better defensively. We're going to be a good offensive team. It's the hurdle we have to get over. It's going to be the mark if we're going to be a good team or not. Our major concern is can we be good defensively, and we'll see. We're going to work at it."
In Anthony's defense, pure chaos can be confusing. Dysfunction can also be confusing. D'Antoni's have never been known to execute well defensively and Anthony has never been regarded as a great team defender, so that's a potentially volatile combination.
What's striking is exactly how bad things have gotten.
Knickerblogger.net notes
that the Knicks were the league's 24th best defense in the league prior to trading for Anthony. But since the trade, New York is dead last. That's no small drop off.
On the bright side, that means there's room for improvement!
As of Thursday night, the Knicks are 34-32, which is good for the No. 6 seed in the Eastern Conference. The Philadelphia
76ers
, though, have pulled into a statitstical tie with the Knicks with a record of 35-33.