We kick off our NBA Tournament seeding with the reveal of our bracket and seeds.
Posted by Matt Moore
With all the fun of March Madness, it brings out the stark difference between the tournament and the NBA Playoffs. While the playoffs are their own beast in terms of intensity, high level of play, and determining a legitimate champion, nothing matches the fun of a one-and-done tournament like March Madness. And the selection process alone is the kind of fun water cooler discussion that's enviable for NBA fans who have to rely on who actually won the most games against common competition to determine seeding. So that got us thinking? What would the NBA Playoffs look like if seeded like the tournament? Certainly not a wholly original idea, but one we thought would be interesting this season, with such competition at the top of both conferences.
Our selection committee seeded the top 16 teams regardless of conference, based on win total, signature wins, strength of schedule, notable upside, and overall performance throughout the season, mitigated by recent success. Over the next few weeks we'll give our predictions of who would win in a one-and-done tournament versus the seven-game trench warfare of the NBA playoffs. Here now, is our NBA Tournament Bracket, and some reasoning for our selections.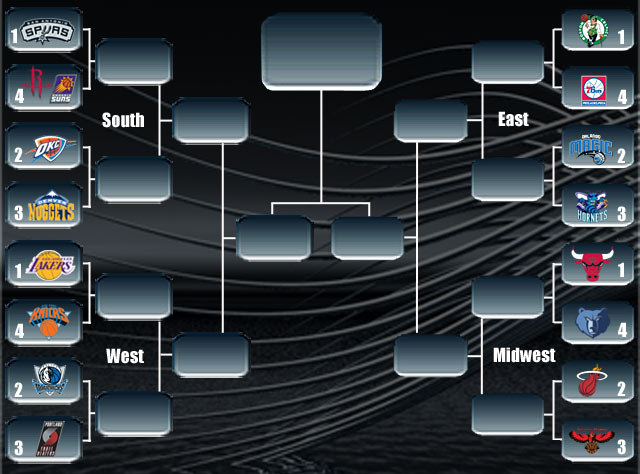 Notes on seeding:
San Antonio was given the top seed overall for obvious reasons. Best overall record by a mile, signature wins over just about everyone, enough to withstand their recent dip against L.A. and Miami. They'll play the winner of the "Play-in" game (Houston vs. Phoenix).
The Jazz just had too inconsistent of a season, and outside of a win Wednesday night, have been on too much of a plummet to get them in. They were held out on the bubble.
Miami was considered a contender for 72 wins in preseason, right or wrong. They were a 2 seed for this process.
Chicago narrowly lost the second overall two seed to Boston. Chicago currently has the best record in the East, and their signature wins over L.A. and Miami were huge. But losses to New York and the Celtics being without K.G. was enough to very narrowly keep them out of the second 1 seed. But it was agonizing and the one the committee struggled with the most.
The other tough one for the committe was Oklahoma City, who wound up barely behind Orlando, despite a better record, a stronger SOS, and arguably a better season. Orlando's signature wins and overall perception were enough to convince us, but it should be noted the selection was done prior to OKC's win over Miami Wednesday, which might have pushed them over the top.
Dallas gets the top 2 seeding, and is rewarded with Portland, which is a terrible matchup for them. Typical.
Denver's recent play was enough to boost them to the top 3 seed, which says a ton about where they're at right now.
Chicago gets an exceptionally tough draw, facing Cinderella-hopeful Memphis and a likely second-round matchup against the Heat.
The committee welcomes your thoughts, questions, comments, and inevitable outrage and insults in the comments below. More importantly, who do you think would have a chance to win this theoretical dance?