A look at the NBA draft prospects playing Thursday in the NCAA tournament.
Posted by Matt Moore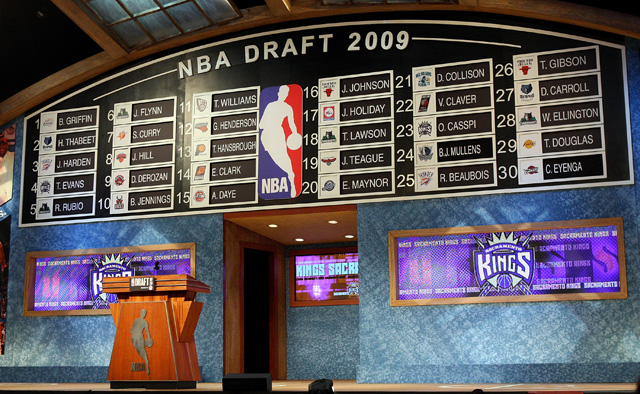 March Madness
. One of the greatest sporting events of the year, where emotions run high and so do the office pools. But the tournament also serves as a reminder to us pro-ball types that the draft isn't that far away, and gives us the best opportunity to see the prospects in a high-profile scenario, under the brightest lights. It's also the first time a lot of NBA fans will pay attention to these players, period. So with that, here's a guide to the players to watch out for in Thursday's first-round games.*
*Sorry, not going to treat the play-ins like a round. They're their own thing, like Neopolitan ice cream.
The "Big name on the marquee" Guy: Kemba Walker, G, UConn
Walker is that guy who all your friends will ask you about in terms of the NBA. "That guy can just play" will be a common phrase. What they really mean is "That guy can really score in college," which is not the same thing at all. This isn't to say that Walker hasn't been phenomenal dropping huge scoring numbers all season and especially in the Big 10 tournament. The questions will be about Walker's ability to translate into an NBA guard at his size. Walker's 6-1 officially (beware the "official" numbers), and that kind of size causes problems for 2-guards (ask
O.J. Mayo
). Walker's most readily compared to Rondey Stuckey and
Jonny Flynn
, but defensively, O.J. Mayo may be comparable. Mayo's a shooting gaurd who gets overwhelmed by the size of NBA 2s. Offensively, though, the Flynn-Stuckey comparisons are sound, but have their issues as well. From SBNation's Mike Prada:
The issue with Walker, though, is something that we've touched on before on this site. Walker, at this point, is essentially a six-foot shooting guard. The comparisons to former Syracuse point guard Jonny Flynn, who rode a similar surge in the Big East Tournament two years ago into an ill-fated high lottery selection, are obvious. They are different players, but those differences don't exactly clear up the Kemba puzzle. Walker carries a much more significant load for his team than Flynn does, but he also scored less efficiently and dished out far fewer assists, as we noted. Walker all commits far fewer turnovers, which is a feather in his cap, but also a byproduct, in a way, of his increased usage i.e. he'll occasionally shoot a bad shot instead of committing a turnover, which is better, but not by much.
via
Kemba Walker Is A Household Name Before 2011 NCAA Tournament, But Is He An NBA Player? - SBNation.com
.
Interestingly, on offense, Walker has the great numbers you'd expect, but Synergy Sports reveals a few interesting facets. For starters, UConn runs a lot of pick and roll with Walker, his second highest play count. He's great at drawing fouls in that set, but that can partially be attributed to the kind of pick and roll defense in college. He shoots just 36% in that set, which is pretty good, but not nearly the 42% he runs off-screen or the 52% off the cut. In short, Walker's a better shooter in catch-and-shoot situations than he is with the ball in his hands (39%). (All numbers courtesty of Synergy Sports.)
All this won't keep Walker from going top-10, however, since as your friend says, "Man, that guy can (score)."
Expected Selection:
DX: 8
N
BADraft.net: 22
Plays:
vs. Bucknell
, 7:20 p.m. (TNT)
The "Did that guy break the rim? Because I think that guy broke the rim" Guy: Terrence Jones, PF, Kentucky
Jones is your prototypical hyper-athletic big who throws down the occasional dunk to make you fear him the way primitive homo sapiens feared lightning. He's also your prototypical tweener who thinks he has a better mid-range than he does. As Tom Ziller at SBNation notes:
He creates his own shot well; according to Kenpom.com, Jones takes 28 percent of Kentucky's shots when on the court, more than even trigger-happy guard Brandon Knight. Jones is OK at getting to the line -- he won't be a Carmelo Anthony/LeBron Jamesstyle foul-drawer, certainly, but he'll get to the stripe -- and a rather inefficient scorer in total. It's hard to see how Jones could ever become a really efficient scorer at the NBA level -- you can see it in Barnes and Williams, but not Jones. His three-point shot is suspect (though he started the year very well) and despite being Kentucky's best paint option, he relies on his mid-range jumper quite a bit. If that continues, it'll depress his field goal percentage and free throw rate, hurting his value.
via
Terrence Jones Looks To Squelch Concerns In 2011 NCAA Tournament - SBNation.com
.
Jones has a .64 points per possession mark in the post, and shoots 33% there. That's really, really bad, even among college players who lack footwork, coordination, touch, and a basic understanding of the properties of space. Jones could really use a better distributing point guard to create opportunities for him, but that's not really Brandon Knight's bag. Jones' defense could be what really helps his stock in the tournament, though. Jones is an elite defender in the post this year, allowing just 32% shooting and fouling just 11% of the time. That's big time stuff.
In the pros, however, he may be undersized, which means those shooting numbers have to go up, and his ability to defend ISO has to improve. Jones is in the exciting but dangerous area, where if things go right he's a big that can do multiple things, and if they go wrong, he's a wing who can't play in space.
Expected Selection:
DX: 9
NBADraft.net:
11
Plays: vs. Princeton 2:45 p.m. EST (CBS)
The "Gosh, the other Calipari guards were so good" Guy. Brandon Knight, PG, Kentucky
Here's the deal with Knight. Your standard point guards that come out of the Calipari's system are athletic wonders who have tremendous speed and vision but can't shoot worth a lick. Brandon Knight is an athletic talent with underwhelming vision who's shooting 44% from the field and 39% from 3-point range this season. That ain't bad. According to Synergy Sports, Knight shot 49% in ISO, 40% in spot-up, and drew shooting fouls 12% of the time in transition.
So for teams looking at him, if they want someone with upside, Knight may not be the guy. Averaging 4 assists per game, he's more of a scoring point guard. But for teams that want someone who can come in and produce points immediately, he's a good fit. In a system where the point guard isn't the primary playmaker, Knight could be a great fit. And his athleticism is such to see some considerable upside in terms of attack. It's the assist-turnover ratio you have to worry about. If Knight isn't drafted into the right situation, he could struggle.
Expected Selection:
DX: 16
NBADraft.net:
13
The "Jimmer" Guy: Jimmer Fredette, PG, BYU
22-years old. Beware the 22-year-old senior. Guys with limited improvement potential are scary for first-round picks. But, I mean, it's Jimmer. I don't have to explain to you who Jimmer is. But I'll throw some numbers out for you. If you throw the ball to Jimmer spot-up? He hits it more than he misses. No matter where. He shoots 55% in spot-up situations. Creating a shot off the dribble, he shoots 39% in ISO situations, despite having to do so 27% of the time he's on the floor and being the primary offensive weapon for BYU with no one close as a second option in terms of effectiveness. He's a monster shooter, there's no other way to put it.
Defensively, that's the rub. Fredette's limited in size, athleticism, speed, savvy, and ability. There's little options for his improvement, and if he can't, he's looking at being too much of a liability at the NBA level to justify keeping him on the floor as a shooter. From DX's profile:
The biggest concern about Fredette's transition to the NBA clearly lies on the defensive end. He is a poor defender, even at the college level, showing average length, heavy feet and unimpressive lateral quickness. He rarely gets into an actual defensive stance, fails to get a hand up on shooters and shows little interest in trying to fight through screens. The same laid-back approach that makes him so difficult to get off-kilter offensively is a serious detriment to his work on the other end, potentially making him a liability in the NBA. With all this in mind, one of the biggest factors in determining the type of success Fredette will have in the NBA is the team he ends up on. In a fast-paced offense predicated on getting shots early in the shot-clock and a coach willing to live with defensive lapses, Fredette will be an incredible weapon. Put him in the wrong system, though, with a team that likes to grind it out and a coach who demands perfection on every defensive possession and we could be looking at a disaster.
via
DraftExpress NBA Draft Prospect Profile: Jimmer Fredette, Stats, Comparisons, and Outlook
.
The best option for him? Model himself after Duke legend
J.J. Redick
. Redick suffered for two years trying to get any level of appreciation from Stan Van Gundy. Van Gundy told him to improve on defense, so Redick committed himself 100% while retaining his natural shooting ability and adding muscle. As a result, Redick is a terrific perimeter defender, the best defender of
Ray Allen
I've seen in the league. He works constantly, and without complaint, and can also
Heat
up from the perimeter. Fredette can gain a lot by looking to Redick as a model, even if he's not as athletically gifted as Redick.
Expected Selection:
DX: 17
NBADraft.net: 10
Plays: vs. Wofford, 7 p.m. EST (CBS)