The Dallas Mavericks are struggling through March but will that mean anything come playoff time? Posted by Ben Golliver.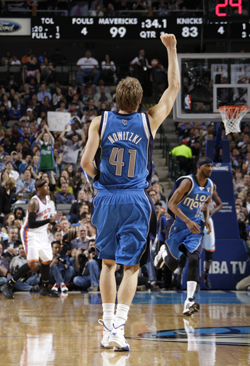 The Dallas Mavericks have the consistency thing down pat: 2010-2011 will mark the team's 11th straight 50+ win season and 11th consecutive trip to the playoffs. Being "consistently above average but not great" can be uniquely frustrating as Mavericks fans know all too well, as Dallas has enjoyed just one playoff series victory in the last four seasons. The question this season is whether enough has changed to push Dallas over the top that might lead to a deep playoff run.
Minus a stretch without star forward
Dirk Nowitzki
, this season has been as promising as any in recent memory. This is a tested, cohesive group: Nowitzki has fought through knee pain to emerge as an MVP candidate,
Jason Terry
becomes even more Jason Terry by the day and the old guard of
Jason Kidd
and
Shawn Marion
continue to find ways to get it done.
As Tom Haberstroh of ESPN.com noted Wednesday
, the Mavericks' 47-19 record sells their performance short, as it includes a 2-7 stretch that Dallas played without Nowitzki, when their offensive and defensive efficiency numbers couldn't have been more different than what they have posted when Nowitzki had laced them up.
There have been some speedbumps recently. In the last 10 days, Dallas has dropped games to four Western Conference playoff teams: the Memphis
Grizzlies
, the New Orleans
Hornets
(who played without all-star point guard
Chris Paul
), the Los Angeles
Lakers
(who watched
Kobe Bryant
go down to an ankle sprain) and the Portland
Trail Blazers
(who are still working
Brandon Roy
and
Marcus Camby
back into the rotation after arthroscopic knee surgeries). None of the losses were due to off nights from Nowitzki. Indeed, Nowitzki tallied at or above his average of 23 points per game in each game and he even shot above 50% from the field in all four defeats.
Instead, the struggles trace back to the old bugaboos: interior defense and rebounding.
Andrew Bynum
dominated the Mavericks, notching 22 and 15, while
Pau Gasol
went along for the ride with 18 points and 5 rebounds.
David West
got 16 and 10 while
Carl Landry
, off the bench, tacked on 15 points and four rebounds. For Memphis,
Zach Randolph
and
Marc Gasol
combined for 43 points and 19 rebounds, shooting an uber-efficient 16-22. And, on Tuesday,
LaMarcus Aldridge
exploded on the Mavericks for the third time this season, finishing with a game-high 30 points and adding eight rebounds, muscling around and through Dallas's defenders seemingly at will.
About this time of year, analysts start looking to forecast first round upset specials and Dallas has started to find itself as a hot button team in this discussion. These losses have raised some eyebrows; are the Mavericks suddenly vulnerable?
Truth be told, I like the Mavericks over all three of their most likely first round playoff opponents. On the season, the Mavericks are 12th in defensive efficiency and 13th in overall rebound rate, so recent results against top competition aren't totally representative of their overall resume. To knock Dallas out of the playoffs, then, you must play above average or better defense to counter their experience and cohesion, and either have multiple interior options that can exploit Dallas's questions in the middle or execute your own offensive system so well that you can win both a shootout or a slow-down execution battle, depending on the circumstances. Memphis, Portland and New Orleans just don't fit that formula.
The Grizzlies, should they hang around, will enter the playoffs facing all the obvious questions about how they'll do when push comes to shove, how well they'll be able to play as a team and how well they'll execute when things matter. Most likely, their offense, when tested, will become a lot of one-on-one play, which, in a seven-game series, isn't going to allow you to keep pace with the Mavericks. On paper, Memphis is fairly well equipped defensively to match Dallas piece-for-piece, but will their team defense stand up to Dallas' ability to execute late in games? Will their focus remain intact when Nowitzki and Terry go on one of their back-breaking second half tears? Without having seen this group do it before, it's difficult to envision. Also, Jason Kidd: 121 career playoff games.
Mike Conley
: 0 career playoff games.
The Hornets, though, have both the defensive chops -- 6th in the NBA in efficiency -- and the playoff experience to stand toe-to-toe with the Mavericks. The question for New Orleans will be who, if anyone, will emerge as consistent offensive options outside of Paul and West. While Dallas isn't excellent defensively, they are above average, and they'll do a reasonable job of forcing your auxiliary options to make plays. Newsflash:
Trevor Ariza
still can't hit from deep, the Hornets' bench is still a hot mess and
Emeka Okafor
doesn't have Bynum's ability to become a true second interior threat to take some of the burden off of West. Short of a transformative series from Paul, something he's entirely capable of, New Orleans has all the makings of a relatively quick out, especially because they've hovered around .500 ball since a red hot start to the season.
The Blazers, finally, might be the basketball fan's dream match-up for the Mavericks. Just as Dallas has become a trendy upset special pick, Portland has become a trendy underdog, with NBATV's Chris Webber predicting this week the Blazers will upset whomever they face in the first road. Back-and-forth the Blazers and Mavericks went on Tuesday night, until the game's final seconds, when Nowitzki's potential game-tying three-pointer rimmed out, sending Portland home winners. Who wouldn't watch that series? No one, that's who.
But while Aldridge is a clear and continuous problem that the Mavericks haven't been able to solve this season, the Blazers are not a consistently good defensive team -- merely average -- and they're also not yet a finished product due to injuries and a trade deadline move for
Gerald Wallace
. While
the New York Times
smartly noted the flexibility that is now at coach Nate McMillan's disposal, the flipside of flexibility is a lack of definition, something that has bitten the Blazers in recent playoff losses to the Houston
Rockets
and Phoenix
Suns
.
Guard Brandon Roy's health also remains a big question mark as he continues to work his way back from dual arthroscopic knee surgeries. On Tuesday, his 21 points were the difference, but he made no future promises afterwards, stating that "the next game could be different." He then promptly sat out Portland's Wednesday practice with a sore back. His impact on Tuesday was unexpected and his struggles on defense were not exploited by Dallas as completely as they could be during a seven game series. It's unlikely Roy will perform to that level over the course of an entire series without Dallas being able to counter him more effectively than they did on Tuesday.
Portland's victory -- at home -- came not only with Roy playing his best ball of the season but also with guards
Rudy Fernandez
and
Wesley Matthews
hitting from outside. A major factor in Portland's lineup juggling has been the team's incredibly inconsistent shooting, something that figures to be the team's Achilles heel come playoff time. Meanwhile, Kidd was a no-show from deep and Terry was solid but not spectacular. If you're Dallas, you watch the game tape thinking that if any one of those five players had played more like himself -- if just one of the Blazers had shot slightly worse or one of the Mavericks had been more impactful -- the game swings the other direction. Over a seven-game series, with a time to prepare for Portland's lineups, that would seem to favor Dallas in a big way.
Aside from the individual match-ups, Dallas is not only better at home than all three teams, they're also better on the road this season than all three teams. On top of that, Portland (16-19), New Orleans (16-20) and Memphis (14-21) are all well below .500 when playing on the road. Memphis, it should be noted, did win both games against the Mavericks in Dallas this year, while Portland and New Orleans were a combined 0-3.
Put it all together and I think any mid-March panic in Dallas is a bit premature, especially in relation to the first round. Past that, however, Dallas' questions will loom much larger.