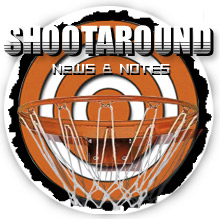 Irving a game changer, Tracy's not big on practice, Tyler Hansbrough says vertigo's like being hammered, and should Matrix start? All this and more in the Shootaround.
Posted by Matt Moore
Tracy McGrady
says Detroit
is top of his list to re-sign
with this summer as a free agent. Just nod your head and move on. He also disses practice. That's right, practice. Not a game. Not a game, practice. Deja vu.
Woah, he's halfway there, oh, living on a prayer: David Kahn says he still expects
Ricky Rubio
to
sign with the Wolves next season
.
The
Spurs
signed Danny Green
for the rest of the season
. Green had a few seasons with upside for LeBron's
Cavaliers
before he was jettisoned to make room for
Antawn Jamison
.
Tyler Hansbrough says that the vertigo he dealt with a season ago that ruined his rookie season was "like being really drunk." Not that he would know, since he says he's never taken a drink.
The Ontario Teachers' Pension, which is the majority owner of the
Raptors
and Maple Leafs,
says it's considering selling its stake
. It would be interesting to see what changes would come to the Raps should they get an actual traditional individual majority owner.
Andre Iguodala
is
dealing with a knee condition
, the same that kept Chase Utley out of spring training.
Should
Shawn Marion
start
?
Joe Johnson
is rocking a headband,
for health reasons
.
Hearty suggestion from an NBA.com roundtable:
take the best 16 teams for the playoffs
, NCAA tournament style. More on this Thursday from us.
Kyrie Iriving could alter the
entire NCAA tournament bracket
, and the entire NBA Draft as well, depending on his performance.