Spanish point guard Ricky Rubio sounds like he's willing to wait to make his NBA debut. Posted by Ben Golliver.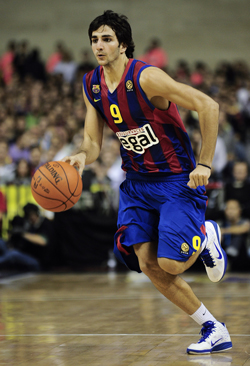 The future of Spanish point guard Ricky Rubio, taken by the Minnesota
Timberwolves
with the No. 5 pick in the 2009 NBA Draft, remains unknown, but as each year passes it seems the two opposing camps harden. In Minnesota and among Timberwolves executives, Rubio is a lock to come to the NBA and become the savior for one of the league's least successful franchises. Everywhere else, it seems, the prevailing opinion is that Rubio's immediate future and playing career will continue in Spain, where he currently headlines for powerhouse FC Barcelona.
The latest indication that Rubio is willing to keep the Timberwolves waiting came in an interview with
Spanish publication Marca
, which was
translated by HoopsHype
. Here are some of Rubio's comments.
Ricky Rubio: "I do have interest in the NBA, but not as in right away"
Rubio: "I signed a six-year contract with a buyout option after the second season. If I leave this year I would have to pay an amount of money and that's it. It's a unilateral decision that I have to make, although if I had to leave at any time, I would talk to the club and the NBA franchise, which is currently Minnesota." Rubio: "Going to the NBA is a dream; every good Spanish player wants to follow Gasol's steps because he's a role model." Rubio also said the lockout will be an important issue when making a decision.

Rubio's statements come about a month and a half after
a New York Times report
detailed his struggles on the court this season and hinted at his hesitancy to come to the NBA, and specifically the Timberwolves.
"The bottom line is, why would he want to play in Minnesota?" a senior member of Rubio's camp said this month. "He'll continue to say all the diplomatic things, and Minnesota needs to keep his value up for trade purposes, but the family's preference is to be on the East Coast, specifically New York, Miami or Boston. He wouldn't be troubled if he has to stay another year."
Back in October
, there was further talk that Rubio's family wasn't crazy about the Timberwolves.
The potential for a lockout next season, as Rubio acknowledges, is a huge factor here. Coming to the NBA would already be a gamble from an on-court and financial perspective for Rubio, who is established as a legit international superstar. Rubio has a lot to lose with any possible move and, if he does decide to come to the NBA, you can bet it will happen in as risk-free manner as possible. The timing will be right financially, he'll find the right team in the right market to help maximize his endorsement opportunities and there will be a cast of teammates in place that will ensure a smooth transition. Why would he settle on any of those factors?
Unfortunately, Rubio has so much more to offer Minnesota than Minnesota has to offer Rubio, especially in this era of financial unknown. At just 20 years old, with so much at stake, he'd be foolish to rush into anything life-changing.