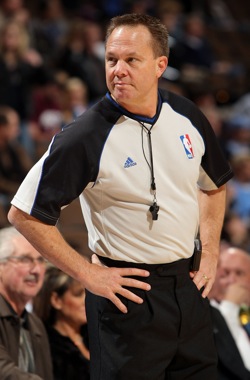 Posted by Royce Young
NBA officials are used to hearing insults and "critiques" of their work. It's part of the job. But don't tweet it, especially if it's about Bill Spooner.
Spooner and the NBA have filed for damages in excess of $75,000 against AP reporter Jon Krawczynski of Minnesota
for a tweet he posted during the
Timberwolves
Jan. 24 game against the
Rockets
.

Krawczynski tweeted,
"Ref Bill Spooner
told Rambis he'd 'get it back' after a bad call. Then he made an even worse call on Rockets. That's NBA officiating folks."
What really happened, according to Spooner, is that after a questionable call early in the second quarter, Kurt Rambis gave Spooner an earful about the call. Spooner promised Rambis he'd take a look at the play in question and review it at the half. Rambis snidely asked how he'd get the points back though. Spooner says he didn't respond to that.
Spooner called the tweet defamatory, but the AP and the reporter have refused to remove or retract it. Spooner has been an NBA official for 22 years.
Obviously the NBA is sensitive about these sort of accusations because of the Tim Donaghy situation, so you can't blame Spooner. A tweet claiming he would get Minnesota their points back basically says he shouldn't be officiating NBA games. If he's not going to call it fair, he should be removed. That's why he took so much offense to it. It's a hearty accusation to make. It's one thing to think it, but to publish it is another.
Now of course, the reporter in question is standing behind what he heard so it's obviously possible that's exactly what happened. But still, that's not something you flippantly throw out there. The NBA investigated Spooner following the tweet and didn't find anything against him. But as an official that's never really had an incident, I'm sure Spooner didn't like it. Hench the suing.