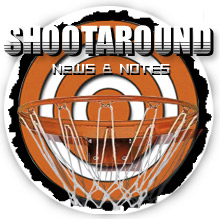 Posted by Royce Young
Jerry Zgoda of the Star Tribune: "On the day after, Timberwolves forward Kevin Love smiled and told everybody not to weep for him. 'With the way people were texting me last night, you would have thought a family member died,' he said after practice on Monday. 'They were like, 'So sorry, if you need to talk to anybody...' I was like, what are they talking about? I feel great. I'm in great spirits.' Love's 53-game double-double streak -- the league's longest since the 1976 ABA/NBA merger -- ended Sunday night at Golden State with a six-point, 12-rebound game. That was his first game without double-digit numbers in both categories since Nov. 19."
Kate Fagen of The Philadelphia Inquirer : "Iguodala looked gimpy in the first half of the game, wearing a sleeve on his knee that we haven't seen before. After the game, he was on the training table getting evaluated. Later, the 76ers announced he has right knee chondromalacia (irritation on the underside of the kneecap)."
Ricky Rubio:

"I do have interest in the NBA, but not as in right away"
Zydrunas Ilgauskas is doubtful for Wednesday against OKC: "He is at home resting right now," Erik Spoelstra told the South Florida Sun-Sentinel . "We'll have to wait and see [when he returns], until he gets back into gear. ... He is 60-70 percent better than he was. ... They need to clear up the infection first."
Jonathan Feigen of the Houston Chronicle on a testy Rick Adelman: "I have to share a question asked of Rick Adelman in pregame after he had said that Jordan Hill would be coming off the bench. 'Is there any rhyme or reason about when Jordan will play?' Rick started as if to say, 'Are you an idiot?' Instead, he found a way to actually give an answer about the decision to start Patrick Patterson and bring Hill off the bench. Jeff Van Gundy would have knocked the guy around for a few rounds before blasting him. Stan would have annihilated him immediately. I don't even want to think how that would have gone with Gregg Popovich."
Horror in New York writes Howard Beck: "Mike D'Antoni called it 'a horror film,' but he could have just as easily classified the latest Knicks defeat as a horrendous sequel, filled with predictable premises and tired clichés. In losing to the Indiana Pacers on Sunday night, the Knicks displayed all of their worst habits and gave substance to every quiet fear about the Carmelo Anthony-Amar'e Stoudemire offensive pairing. They were bull-headed and reckless, forcing bad shots instead of passing, barging into clogged lanes and generally turning D'Antoni's fluid offense into a stagnant mess of one-on-one plays."