Dwyane Wade wins in court, David Lee holds Kevin Love in check, Tracy McGrady takes a swing at being a labor leader, Chauncey Billups preaches patience and a whole lot more. Posted by Ben Golliver.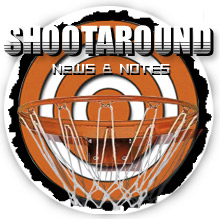 The San Francisco Chronicle writes that Golden State Warriors forward David Lee was the key to ending Minnesota Timberwolves forward Kevin Love's consecutive double-double streak. "The player guarding Love tonight was not going to be involved in the game on offense," coach Keith Smart said. "He had one objective: That was to make sure Love didn't get the glass. David Lee did a great job of sacrificing. ... "I call David Lee a good basketball player. He was locked in to do a job that was necessary."
In case you missed it over the weekend, CBSSports.com's Ken Berger investigates how the NFL Players Union's decision to decertify might influence the negotiations going on between the NBPA and NBA owners.
New York Knicks point guard Chauncey Billups says the new-look Knicks are still feeling each other out after the blockbuster trade that brought Billups and Carmelo Anthony to the Big Apple, writes the New York Daily News. "I don't know at what point it becomes a problem," Chauncey Billups said. "We had one real practice yesterday. The trade was weeks ago. We have five new players on the team. It's not that easy. We end up practicing in the games."
On Sunday night, we took a look at Boston's historic defeat of the Milwaukee Bucks, in which they allowed just 56 points. The Journal Sentinel quotes Bucks coach Scott Skiles calling the loss "about as humiliating a defeat as you'll ever see."
It's come to the point where writers are asking the Utah Jazz whether they've quit on the season. The Deseret News quotes Al Jefferson who says things are still all good. "No. Heck no," Jefferson said. "I hope no one in here have quit, because there's a lot of games to be played and we have a job to do. I can speak for myself and I can speak for a lot guys in there (the locker room), and I know they haven't quit."