Minnesota Timberwolves power forward Kevin Love's consecutive double-double streak has been snapped. Posted by Ben Golliver.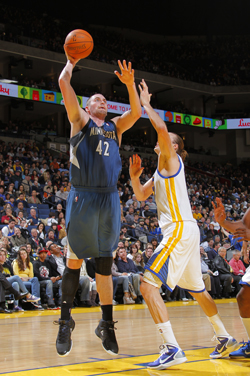 On Friday, Minnesota Timberwolves All-Star power forward Kevin Love notched his 52nd consecutive double-double,
moving past
Hall of Fame center Moses Malone for most consecutive double-doubles since the NBA merged with the ABA in 1976. After putting up 24 points and 12 rebounds against the Utah
Jazz
on Friday, Love was all set to take aim at his next target -- Elvin Hayes' 55 straight double-doubles in 17973-1974 -- until both he and the Timberwolves sputtered in a disastrous 100-77 loss to the Golden State
Warriors
on Sunday night.
Minnesota's 77 points against Golden State was a season-low and, in the process, Love managed just six points and 12 rebounds in 33 minutes of play, ending his consecutive double-double streak at 53 games.
After the game, Love
tweeted
, "All good things come to an end, I appreciate everyone sending their love regarding the streak. But with that said...why not start another one on Wednesday?"
Golden State's lead was so big down the stretch that Timberwolves coach Kurt Rambis pulled Love from the game with roughly four minutes to go in the game, streak be damned.
It seems appropriate that Love, the NBA's leading rebounder at 15.8 per game, was still able to get it done on the glass in his streak-snapping game. That he couldn't crack double digit points against the league's
fourth-worst defense
-- shooting just 1-6 -- makes this look more like an off night rather than a no-show.
The last time Love failed to hit double digits in both points and rebounds? November 19, 2010 against the Los Angeles
Lakers
, when he finished with 0 points and seven rebounds in 34 minutes.
As many have pointed out, Love's streak is nothing compared to what Wilt Chamberlain used to do, running off consecutive double-double games by the hundreds and
averaging a double-double in each of his 14 seasons
. Comparing Chamberlain to Love is apples to oranges, though, and Love's accomplishment in the modern era has deserved the acclaim it's received.
In my opinion, consistency is the single most overlooked attribute in today's NBA.
Kevin Durant
is the league's best scorer, by far, because he does it every single night. Every. Single. Night. Check his game log. The same thing should be said for Love. Even if he doesn't possess the physical talent and athleticism to be a true franchise player, he brings energy and hustle and rebounding intuition night in and night out, no easy feat given how often the weakling Timberwolves walk into the gym overmatched.
You can debate whether or not Love should have been an All-Star this season, but you can't argue against his consistency. That's what Love, and his streak, should be remembered for.