Oklahoma City Thunder point guard Russell Westbrook joins an elite club of NBA players who accumulated points, rebounds and assists early in their career. Posted by Ben Golliver.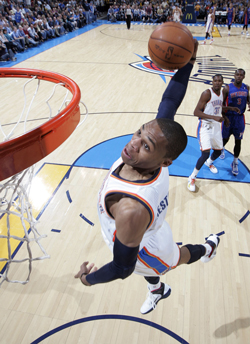 Oklahoma City Thunder point guard Russell Westbrook is one of the most intriguing players in the NBA because
Kevin Durant
's presence makes it so easy to overlook him, at least until you watch him play. When that happens, Westbrook inevitably leaves you speechless. I've gone through this process at least 15 or 20 times and yet his name still doesn't come to mind immediately during the "elite point guards" discussion, as he gets left behind guys like
Derrick Rose
,
Deron Williams
,
Chris Paul
,
Rajon Rondo
and others.
The craziest thing about the fact that Westbrook is still overlooked is that he's been doing it for awhile -- a long while -- already. On Friday night, Westbrook
joined an elite statistics club
alongside some of the biggest names to ever play the game.
Westbrook added 13 points and 11 assists, becoming the fifth player in NBA history to reach 4,000 points, 1,500 assists and 1,000 rebounds during his first three years in the league. The others are Chris Paul, LeBron James, Anfernee Hardaway and Oscar Robertson.
Surveying this list, you see some of the most complete players of the modern era. In James and Paul you have arguably the two best all-around players currently playing in the NBA, in Oscar Robertson you have arguably the best all-around player of all time and in Anfernee Hardaway you have probably the single biggest case of "What could have been if not for injuries" over the last 20 years. Early Penny was just ridiculous; No one could match up with him.
So how did Westbrook get here? A combination of a few very important factors.
First, it speaks to how much trust was placed in him immediately upon his entry into the NBA. This is a guy who was averaging 32.5 minutes as a 20 year-old-rookie point guard, a feat not often seen, especially these days when coaches are so often afraid to play young players so as not to risk their own jobs.
Second, it says a lot about his durability: Westbrook didn't miss a single game in either of his first two seasons and hasn't yet missed a game due to injury this season. That's 228 straight games and counting.
But Westbrook hasn't just had the opportunity to play and good luck with health, though. He's also been insanely productive, improving his points per game and assists per game each year that he's been in the league, and being a steady, rock solid rebounder since Day One. His unique skillset -- an insane vertical leap, an explosive first step, a natural ability to put the ball in the basket -- coupled with Durant's presence as a knockdown shooter and all-around scorer have combined to make the three-category accumulation possible. His 22.4 points, 8.5 assists and 4.8 rebounds per game this season are at video game status.
Three years in, Westbrook stands as a textbook example of how things can go right, and go right quickly, for a young floor general to whom much responsibility is given. He has learned to deal with issues with turnovers and helped turn Durant into the game's single best scorer, he's continued to hit the boards night in and night out and he's improved his vision and decision-making.
Extrapolating Westbrook's statistical progress and accounting for his team's ability to make the post-season and the fact that he earned his first trip to the All-Star Game this season at the age of 22, the sky is quite literally the limit. There's no other way to put this: he's on the Hall of Fame track.