A letter sent by Billy Hunter to every NBA player strikes a pessimistic tone following the All-Star Weekend meeting with NBA owners. Posted by Ben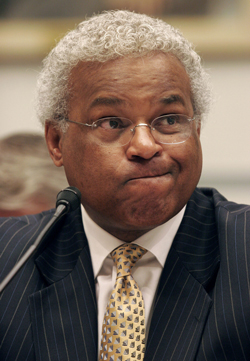 Golliver.
Representatives of the National Basketball Players Association and a collection of NBA owners met in Los Angeles during the 2011 All-Star Weekend to discuss the league's upcoming Collective Bargaining Agreement negotiations. Following the meeting, NBA commissioner David Stern said the
talks were productive
and that the two sides understood each other's position, while also admitting that there was still significant work to be done.
On Friday,
NBAConfidential.com obtained a letter
, dated March 3, sent by NBPA Executive Director Billy Hunter to all NBA players. The letter, which is three pages in length, includes Hunter's take on the All-Star Weekend bargaining session.
While the language isn't particularly surprising, it does take on a noticeably pessimistic and cautionary tone. The letter calls the owners' position "extreme" and notes that the owners' proposal would require "the players' compensation, job security and freedoms [to] recede." King also writes that the players "have quite a fight ahead of us" and that, overall, the All-Star Weekend meeting "accomplished little."
Here is Hunter's overarching summary.
"One point has become clear, and the owners did not shy away from this reality at our meeting; their extreme proposal is not just intended to wipe out their alleged losses. Instead, by their own admission, the owners are seeking in this negotiation to guarantee themselves a significant profit each year. As they made clear at the meeting, they would be making the same demands even if they were not claiming to be losing money. If the owners have their way in this negotiation, regardless of how effective a franchise is managed, each other will be able to use a new 'idiot proof' system to ensure that in addition to the appreciating return on his investment, he will reap millions in profits each year, while the players' compensation, job security and freedoms recede.
"If it hasn't already become clear, we have quite a fight ahead of us. Our meeting at All-Star Weekend accomplished little, but we did agree to continue meeting in good faith in the hope that we can find common ground. I can assure you that we will do everything in our power to reach a fair and equitable deal, and will not rest until the task is accomplished."
One particular sticking point, Hunter writes, is the owners' apparent insistence on instituting a hard salary cap.
"We relayed how their hard cap proposal strikes at the heart of our nearly 30-year history of guaranteed contracts, and how we cannot watch that longstanding culture disappear on our watch. As expected, the owners one again refused to budge. They repeated their claims of heavy losses and claimed that our 57% of Basketball Related Income (BRI) is too high. They insist that the current soft cap system is 'broken' and they need a new system that will create 'more competition' and fan interest."
Given that the meeting in Los Angeles was more an exchange of ideas rather than a formal bargaining session, the fact that there were no immediate concerns is to be expected. But, in his address on the meetings, Stern chose to focus on the fact that the two sides understood each other, while Hunter's letter here makes it clear that, while that may be true, that doesn't necessarily mean the two sides are in the same ballpark on some of the most basic bargaining issues.
While no one wants to play the role of Chicken Little, it's difficult to read this letter and come away thinking anything but that the two sides are still at the very beginning stages of what is sure to be a protracted and potentially ugly bargaining session. That's not good, because the clock is already ticking.