Ken Berger of CBSSports.com reports that a hard cap may force the Heat to break up the Miami Triad and trade Chris Bosh.
Posted by Matt Moore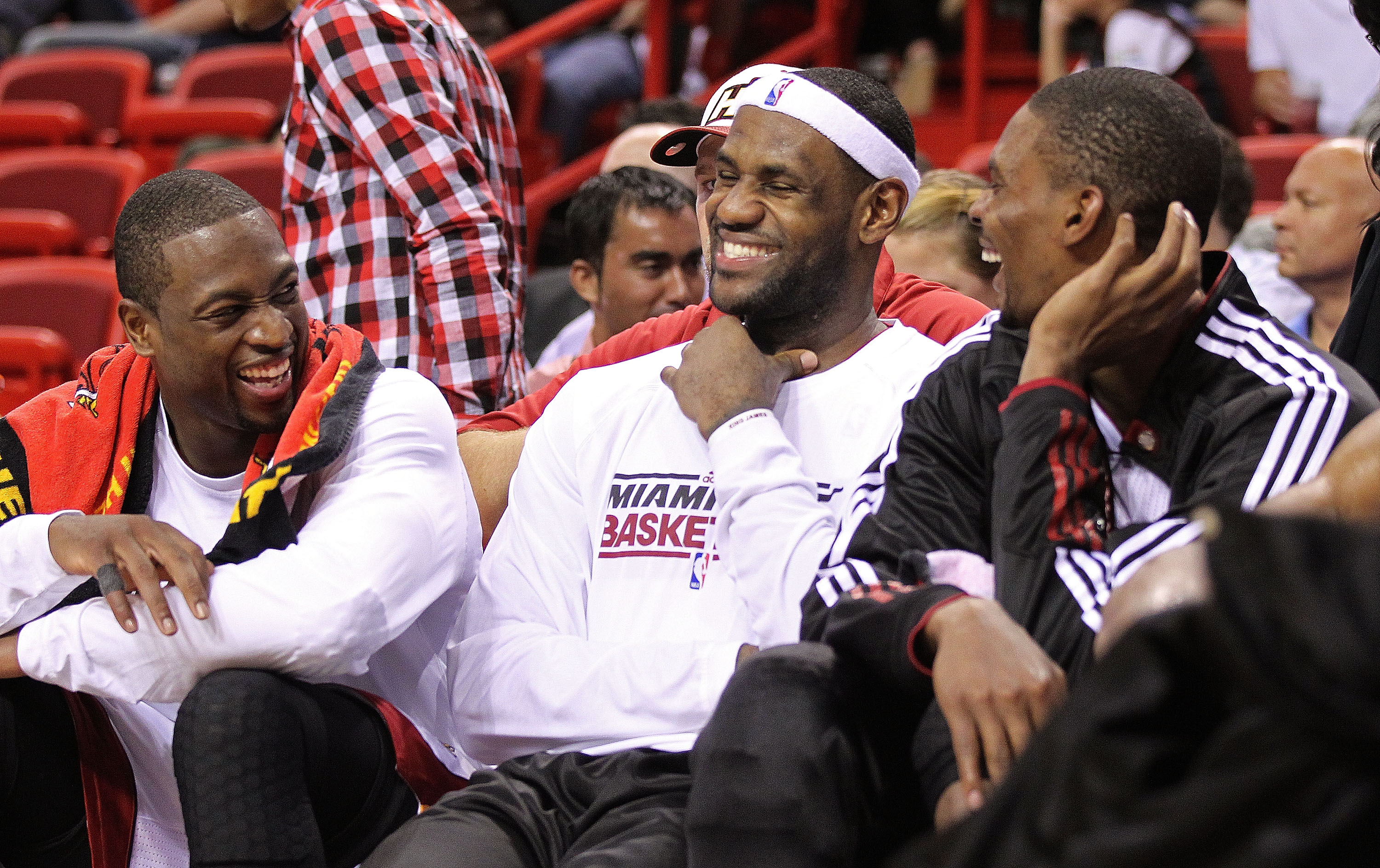 Ken Berger of CBSSports.com reports
that the upcoming CBA could lead to drastic changes to superteams, most notably the Miami Heat. Berger reports that some executives believe that should the NBPA cave to the owners' demands of a hard cap (which for them is approximate to worrying about gardening after a nuclear winter - if things reach that point everything's ruined anyway), the Heat would be in a position where their current structure built around the Triad would be untenable. Which would force them into a tough decision. Which of the three to keep?
Okay, so it's not a hard decision, as Berger points out:
The most obvious candidate to be subtracted from the Big Three is Chris Bosh, who hasn't been able to produce the kind of impact Miami could have gotten from 2-3 cheaper role players. Bosh also has complained recently about not getting the ball in the post enough. Whether or not he has a point, this sort of griping at a time when the Heat were in crisis mode won't make Riley any more eager to pay him $16 million next season -- especially if Miami falls far short of its championship goal in Year One.
Bosh is easily the most expendable of the three, not only from the perspective of Wade and James being superior players, but due to Bosh being a gangly stretch-four who struggles with rebounding and post-play, despite his impressive performance Thursday night against the
Lakers
. Bosh isn't necessarily expendable to the Heat considering his abilities, but should a team put together a sizable package of talented role players featuring rebounding and potentially a decent point guard (I know what you're thinking, sounds like Cleveland, let's just move on), would Pat Riley really ignore a phone call once the season is over, even before a new CBA?
But then, there's the big issue. Who would want Bosh after this season? It's hard to place a team that would look at Bosh who has been revealed as a B-level superstar among his A-level teammates, who would be looking for a stretch four with a rail-like frame and a nice mid-range jumper, and who has shown to be mentally frail with a streak of egotism that may be the only area he rivals LeBron. That doesn't exactly paint a picture of the star you toss assets onto the outgoing wagon for, which means that should the Heat be forced to jettison Bosh under a new CBA, they may be in worse shape than they're in now. You know, worse than third-seed in the East with three of the ten best players in the National Basketball Association. Difficult life that they suffer with.
Still, Bosh is a top-flight player and there will always be teams looking to add stars to their roster, especially those with cap room, and a desperate need for players to attract ticket holders. But should this doomsday scenario come to fruition, the Heat would be just one of several teams facing an inability to maintain the stacked rosters they've worked so hard to procure. Consider it the revenge of the abandoned, and yet another dramatic reformation of the roster landscape of the league.