Chris Bosh led the Miami Heat in scoring in a win over the Los Angeles Lakers, but it was his assertive play and good decision-making, not overwhelming physical dominance, that made the difference. Posted by Ben Golliver.
Skeptics had every reason to doubt and prod Miami Heat forward Chris Bosh, when
he said earlier this week
that he felt he needed to pound the paint more if his team was going to pull itself out of a five-game losing streak. His desire to return to the low block came off as a bit naïve and overly optimistic, as Bosh's best strength is his face-up versatility and the mid-range game that goes with it, plus the fact that Miami's offense has been designed to focus on those strengths rather than anchoring him near the basket.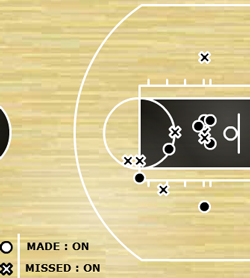 In a marquee Thursday night match-up against the Los Angeles Lakers, with the doubters and vultures circling, Bosh slapped up a 24 point, nine rebound night, shooting 10-17 and leading the Heat in scoring despite battling early foul trouble. He was clearly amped.
His shot chart,
via ESPN
, was a thing of beauty, with more than half of his attempts coming from inside the paint and not a single shot outside of 15 feet. As the
CBSSports.com shot tracker
will tell you, he was 6-8 on layups and 1-1 on dunks. On the surface, you might mistake this for the Bosh that Bosh himself had promised.
Looking back at the game tape, though, this was a focused, determined Bosh challenging himself to take his game up a few notches, not a paint-owning Bosh wreaking havoc by being a bully. Miami was able to both move the ball and move Bosh around, putting him in positions where he could succeed against L.A.'s talented, long-limbed post defenders.
The tone was set early, when the Heat pushed the ball after a defensive stop, with
LeBron James
cutting down the baseline to briefly take up residence on the low block. James' motion attracted plenty of attention from L.A.'s interior defenders, freeing Bosh to cut to the basket himself. As James delivered the pass on time, Bosh was able to use his face-up and ball-handling skills to create space and finish the play while on the move.
Early in the second quarter, Bosh again found success, this time playing alongside many of Miami's second unit players. Defended by
Lamar Odom
, Bosh began at the low block but flashed through the paint towards the ball, making a relatively easy catch and then attacking off the bounce without hesitation. Odom sticks with him, but it's a slightly awkward sequence and he isn't able to fully contest Bosh's leaner. Bosh makes the close-range shot and you can sense his confidence is growing.
Here again you see Miami finding a compromise between Bosh's skillset and his desire to get higher-percentage looks. This is a matter of assertive athleticism rather than physicality: Bosh is doing more contorting and less muscling to get his shot.
Later in the second quarter, the Heat isolated Bosh one-on-one against Odom, this time with his back to the basket. The two players are fairly evenly matched from a strength perspctive and while Bosh was able to make some progress backing Odom down, he started to encounter more resistance than he was able to easily overcome. This play serves as an interesting tell: Will Bosh force it to prove his point? Will he look to bowl over Odom and risk further foul trouble to live up to his own self-imposed low-post expectations?
In this case he didn't, opting instead to set up a beautifully choreographed turnaround jumper that he gets off in rhythm and with a fairly clean look at the hoop. That's absolutely a shot in his arsenal, especially when he's feeling it, and he delivered smartly.
Bosh's performance on Thursday shouldn't be remembered as a move towards a more physical, traditional style of play, and he shouldn't be viewed a player looking to flip his game on its head. Instead, we simply saw an extremely motivated and locked in version of the Bosh we'd seen earlier this season, an athletic, fluid player with solid ball skills but not overwhelming power and strength. His best play of the night down the stretch came when he used his quickness to beat
Pau Gasol
off the bounce and get to the rim. It was great, but it wasn't exactly what we thought was being promised to us.
The single biggest change from Bosh was his lack of hesitancy: a focused desire to go to the rim when the path was clear and to go to his bread-and-butter moves when it wasn't. That's excellent, but is it sufficient to win the battle of the paint through multiple series of the playoffs? In other words, is an attacking, face-up stretch forward enough to succeed in the packed-in, hard-foul world of the post-season? That remains an open question.
Thursday's performance also came with some warning signs. Bosh floated for much of the third quarter, before re-emerging for six fourth quarter points, and he settled for a contested jumper late in the game that was blocked by
Andrew Bynum
, a play that could have proven decisive if Lakers guard
Kobe Bryant
wasn't in the middle of a full-scale meltdown.
The takeaway for Bosh and the Heat should be much more mental than physical. Whatever Bosh did to motivate himself for Thursday night, keep doing that. Once out on the court and ready to go, stick to what works and don't get caught up in pushing the limits of his game in ways that aren't natural. Bosh's skills are sufficient to impact games, provided Miami moves the ball, keeps him involved and keeps him on the move, roaming the outskirts of the paint and looking to attack from there.
They really don't have much of an alternative: it's too late in the season for Bosh to make wholesale changes to his body or for Miami to make wholesale changes to its offensive system and spacing. Thursday's win proved this approach could work -- as long as the Heat wings are hitting from deep -- at least for one night. Bosh answered his own questions, in part, but now the trick is to do it again and again.