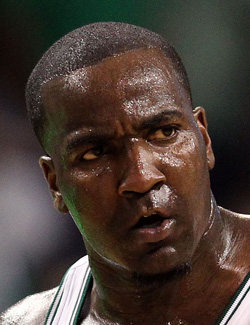 Posted by Royce Young
There has been a good amount of anticipation for
Kendrick Perkins
' debut in a
Thunder
uniform since the
Celtics
traded him. Most immediately pegged Oklahoma City a legit contender after the trade was completed, but we've all had to wait as Perkins is recovering from a right knee sprain that sidelined him shortly after the deal was done.
He practiced for the first time Thursday with his new team, giving himself a "6 out of 10" saying he felt no pain or discomfort, just some rust.
"It was kind of better than what I expected," Perkins said. "I was going all-out, testing it out. My knee is fine. It wasn't bothering me at all."
Shortly after the Thunder's practiced wrapped Thursday, the team sent backup center
Byron Mullens
to their D-League affiiliate, possibly opening the door for Perkins to be activated for Friday's game against the
Pistons
.
But OKC coach Scott Brooks said Perkins won't debut Friday.
In fact, it looks like Perkins is
eying Wednesday versus the
Heat
to make his first appearance.
Officially, Perkins is listed as day-to-day. He was said to be out two-to-three weeks with the knee sprain and Friday makes 13 days since that announcement.
Post-trade, the Thunder are 4-3 and seem to be finding themselves a bit after a pretty major roster shakeup. There is a lot of anticipation behind Perkins' debut as people are interested to what he'll bring to the new and improved OKC front line. But he doesn't have a lot of time to get acclimated before the playoffs start.
"As long as I can get about 15, 16 games with the guys, I think it's cool before the playoffs," Perkins said.
If he plays Wednesday versus the Heat, that'll give him 16 games with OKC. That'll be only 28 total though, as he only appeared in 12 with the Celtics before spraining his knee.
But Perkins acknowledged that he's not with the Thunder for a short-term run this season. It's a long-term situation and he's not going to risk any of that just to hurry back for a couple games against the Pistons, Cavs or Wizards.