Posted by Royce Young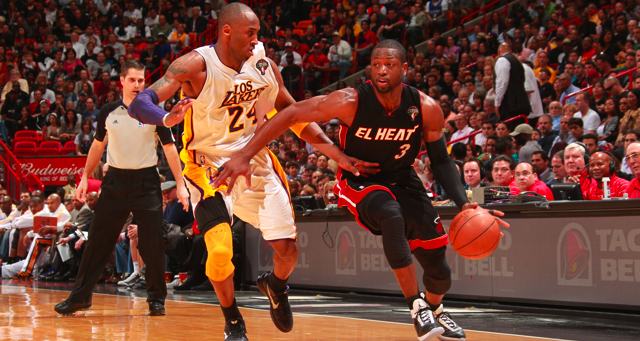 With a minute and a half left and we were right back at that same old place. The
Heat
were in a tight game and somehow, they had to figure out a way to finish. Against the defending champs nonetheless.
The game was tied at 88-88,
Lakers
with possession. With possession and
Kobe Bryant
on their team, mind you. The Heat were doing a better job of executing the past few minutes, but the game was still a total grind on both ends, for both teams. Decent looks were at a premium and baskets were rare.
And with all the focus on the Heat's inability to close games -- notably on the offensive end -- they finally stepped up in crunch time. But on the other side of the floor. A wild scramble resulted in a run out for Miami with
Dwyane Wade
leading to
LeBron James
for a dunk. 90-88, timeout Lakers.
But that's no good unless you get another stop. Scoring is good, stopping is better.
The next Lakers possession,
Ron Artest
fired a corner 3 that missed. Ball out to Los Angeles. It's passed in to Kobe who took what you can only call a curious contested 3 from the corner which airballed. Artest gathered the rebound but missed a bunny at the rim. Miami escaped three looks from the Lakers and had possession with 60 seconds left.
Again, here's where Miami had to overcome some demons. Finding a way to put this little leather ball in that rim had become quite the challenge for this gifted group. And the Heat went with a wonderful play that had LeBron setting an on-ball on Kobe, which Wade false-stepped off of, going left, uncontested, to the rim. Heat 92, Lakers 88.
And then a funny thing happened. It was almost like the two teams swapped jerseys. Kobe fumbled a good pass of of bounds (he was probably fouled, but in this game, who wasn't?), relinquishing possession back to Miami. Wade returned the favor, losing his handle out of bounds but Kobe took yet another odd shot, a wild 29-foot 3 that missed long. Artest fouled LeBron off the ball, James sunk his two free throws and that was basically that. Heat 94, Lakers 88.
Consider this: The Lakers didn't score a point the last 2:26 of the game. The only two baskets they got in the last five minutes only were because Kobe hit a couple highly contested difficult 3-pointers. It was either horrible Laker offense down the stretch or great Miami defense. You can decide which, but it looked to me like the Heat defended with purpose.
They ran off 21 of 22 earlier in the season behind incredible, hounding man-to-man defense. And in the second half against the Lakers, they allowed just 35 points. They only scored 39 themselves, but that's the thing -- they shouldn't have to rely on great halfcourt offense to win. I realize that was sort of the idea when three megastars joined forces on one team, but crunch time offense has always been a challenge for them since day one. Relying on defense to create offense and therefore
win
, is the backbone of this Miami team. That's the only way they are going anywhere in April, May or June.
The last 10 possessions or so, I still didn't see any kind of offensive identity for Miami. It was a lot of one-on-one stuff waiting for LeBron or Wade to break down his defender, get into the lane, jump (they always jump), and pass to a (hopefully) open man. In this one, it worked just enough, but that's because Miami got the necessary stops on the other end. Without those, they would've been faced with scoring in crunch time, a prospect I imagine they were very relieved to not be faced with in this one. All they had to focus on against L.A. was playing defense, which is their ultimate comfort zone.
What's interesting about the Heat winning this game is that some will see it as everything was fixed, everything back in order for them. "Back to contenders!" some will say. Hardly. Let's not get ahead of ourselves here. The Heat -- who are very good, remember? -- just won
at home
to stop a five-game losing streak and it helped that Kobe lost his freaking mind those last few trips. Just like some were too quick to dismiss the Heat after their recent skid, some will be too quick to re-crown them. I think where we are currently with this Miami team is pretty accurate. Right in the middle of the two. A very good team, but one with issues.
I mean, let's face it, it's not like the Heat were going to lose 11 straight games to all these good teams. They're too good for that, even if for a time, it kind of looked like they were capable of it.
But what's most important to this Heat team is that on this night, they monkey is off their back. They get to feel good again, they get to forget about the failures from the past 10 days. They get to hear some people say some nice things again. The Heat can cry all they want tonight. Tears of joy, that is.