Houston Rockets center Yao Ming discusses the progress of his rehabilitation from a foot injury and his desire to come back to the court. Posted by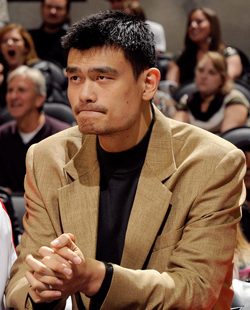 Ben Golliver.
Back in December
, Houston Rockets center Yao Ming suffered a stress fracture of his ankle that required season-ending surgery and threatened to end his career.
On Thursday, Yao met with media members to provide an update on his progress and to make it clear he is working towards a comeback to the court.
NBA.com has video of his comments
.
"I've been doing well," Yao told reporters. "Once in awhile, seeing the doctors, checking to see how things are going. I'm happy about the progress and [I'm going to] try to make it back. They said I probably need another 10 weeks before I can start running on the court. That's as far as I know."
Later, he added, "I still have very limited workouts. I cannot walk with my full weight."
Yao, a free agent this summer, said he was unable to give a firm estimate on when he might return to the court and hadn't yet thought about his future, which may or may not come with the Rockets. "Right now it's more focused on my injury. About the future, it all depends on this foot." He did say that he enjoys playing in Houston. "I like it here. I'm used to playing here. I'm really, really comfortable."
He also said it was too early to tell whether he would be the same player he has been in the past. "The foot will tell me how much I can get back," Yao said. Asked whether he would be disappointed if wasn't able to play again, Yao said: "That's a sad question, first of all. If there's a possibility that I'm not going to come back to play, I'm going to tell myself I already did everything I can."
Asked when a decision about his future might come, Yao said, "After the lockout, I guess." He then caught himself and laughed, "We're not allowed to talk about this."
As Yao was only able to appear in five games this season, the Rockets have made due with a small frontline that includes
Luis Scola
,
Chuck Hayes
and
Jordan Hill
. Houston also traded for project center
Hasheem Thabeet
at the deadline, but Rockets coach Rick Adelman has expressed concern about Thabeet's role going forward given his lack of experience. Meanwhile, the 33-33 Rockets are in the basement of the Southwest Division and on pace to miss the playoffs for the second straight season.
In other words, the Rockets still badly need a center. However, they need one now and may not be able to wait indefinitely to check on Yao's progress. Persistent injuries have kept Yao from the court for major portions of four of the last five seasons and it may be time for the Rockets to go a different direction. Yao was
rumored to be on the block
prior to the trade deadline, as his massive $17.7 million expiring contract could have allowed a rebuilding team to shed long-term salary committments.
The Rockets didn't move him, however, so his future, and his future in Houston, remains up in the air.