Los Angeles Lakers coach Phil Jackson says he is "not a fan" of the Miami Heat's offensive style of play. Posted by Ben Golliver.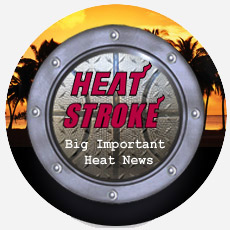 Earlier this week
, Los Angeles Lakers coach Phil Jackson mocked the Miami Heat for crying after a recent loss. Just prior to the two teams facing off on Thursday night during a nationally-televised game, Jackson made sure to get another dig in.
Speaking shortly before tip, Jackson belittled Miami's isolation offense by comparing it to a video game in quotes
reported by the Associated Press
.
"I'm not a big fan of the style that Miami plays," Jackson said. "I like to see everybody involved in the game."
"I think that's really important to basketball," Jackson said. "That's what I'm trying to preach as a basketball coach, even though we have a guy that dominates the ball in Kobe [Bryant]. Their basketball is very much standing with Xbox games or whatever those games are. Basketball's not a 1-on-1 game. It's a team game."
Without a doubt, the Heat would be much better in a video game than in real life.
With no media, no crunch time pressure, no distractions, no expectations and no rigid coach that nobody seems to listen to, the Heat would arguably be the best team in the NBA. If it was all numerical ratings and complicated button-pushing combinations, the Heat would be the gold standard. In a video game, you could spend a few minutes tinkering with the player ratings to make guys like
Mike Bibby
and
Mike Miller
better at shooting and you would be able to have
Chris Bosh
get by on his past reputation rather than his production this season. Getting Bosh down on the block would be as simple as pushing a button rather than rejiggering an entire offense. In that context, the combined raw talent of
LeBron James
and
Dwyane Wade
would be unstoppable. Just hold down turbo and watch everyone get out of the way.
But Miami's video game prowess isn't likely to translate to real life post-season success this season. Time is running out and there are simply too many unpluggable holes: point guard, center, depth, experience on the sidelines.
The next question: Will Heat president Pat Riley hit the reset button this offseason?