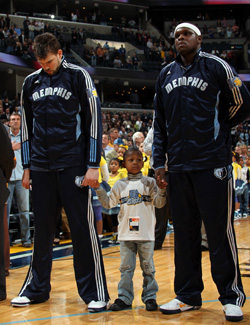 Zach Randolph wants his money. Is Memphis in a position to provide him his next contract, and more importantly, should they?
Posted by Matt Moore
It's not like Memphis didn't see this coming. When they gave
Rudy Gay
a max deal worth $80 million, then followed it up four months later with a $40 million deal for
Mike Conley
(which looks like a steal right now compared to the garbage assessment I gave it), they knew they were going to be setting themselves up to not get back the core. The starting five from last season of Conley,
O.J. Mayo
, Rudy Gay, Zach Randolph, and
Marc Gasol
was something management and ownership had both asserted needed to be kept together. They continually spoke to keeping that core together to let it develop. But for that to happen, with a combination of talented young players on the rise and veterans looking for substantial investments, people were going to have to take paycuts. Two of the five took about as much as they were going to get on the open market. Something's got to give.
Mayo is gone, even if he's not gone. That fact is a combination of decisions from both Mayo and the
Grizzlies
. Mayo struggled to take over more ball-handling duties over the summer, then wilted under criticism from his coach resulting in a prolonged shooting slump, then go into a fight with teammate
Tony Allen
on the team plane, during which he was KO'd, then was busted for a performance enhancing drug due to a supplement he claims was in a gas stations refreshment. Mayo's had his hand in this. But the Grizzlies committed a cardinal sin of management, be it a corporate office, a movie rental store (when those existed), or a basketball team. They set Mayo up for failure. They pushed him to be something he's not, a point guard, and when he struggled in a handful of games in Summer League, publicly criticized him for it. They gave Conley the money when he had contributed less to the team than Mayo at that point, moved him to the bench (even if they did need bench scoring, they knew the effect it would have on his confidence), and continuously told him they weren't moving him, then shopped him on the trade market. The final straw was the failed deal with the
Pacers
that nearly moved him at the deadline. That's not a situation that can be repaired. Be it this summer or worst-case scenario in restricted free agency in the summer of 2012, Mayo's gone.
Which leaves Gasol and Randolph. One is going to have as many suitors as he can shake his beard at, the other has not been quiet about making it clear he wants his final payday.
Alan Hahn of Newday reported
Thursday on both Gasol and Randolph's free agency situations. Specifically, just about every New York media outlet has spun that the
Knicks
are intent on landing Gasol to be their center of the future, which they badly need. Gasol, true to the form he's held throughout the conversations about his upcoming restricted free agency, said he's not concerned with it, not worried about it. He's said the same to every outlet, but there's one differential. Gasol went to high school in Memphis. He's been there off and on for close to a decade. Whatever problems his brother had with management probably do affect his thinking, but this is also restricted free agency. If the Grizzlies are willing to match, which there is every indication they are, Gasol won't make it hard on them, or buck at the idea of staying in Memphis through another contract. Odds are very strong that Gasol will be in Memphis for the future.
Randolph, on the other hand, is a stickier situation. From
Newsday
:
Former Knick Zach Randolph will also be looking for a new contract this offseason as an unrestricted free agent and he sounded annoyed that the Grizzlies decided not to sign him to an extension. "I thought it shouldve been done," he said. "But its a business, nothing personal. Ive just got to come out and do my job every day and let everything else take care of itself."
via
Gasol would fit in nicely with Knicks- Newsday
.
Randolph's been pretty annoyed this entire time he hasn't gotten the extension. Randolph turns 30 this summer, and this is likely his last really lucrative NBA contract. He's got something good in Memphis, and wants to be rewarded for it. But Randolph has learned that this is a business (having been traded multiple times, largely on account of his off-court behavior and leadership issues, both of which have vanished in Memphis), and will pursue whatever angle he can to get the best deal he can.
And that's where things get bothersome for the Grizzlies. How do you put the right price on Randolph? He's going to be 30. He doesn't have a history of winning. His defense is not great. (He's not a sieve or anything, but put him up against a long athletic guy who's as relentless as he is and he gets overmatched, quickly, and his weakside rotation leaves a lot to be desired.) He succeeds mostly by being savvier, more gifted, and working harder than the other guy. But isn't that who you want on your team? The leadership mentioned earlier could not have been better in Memphis. Randolph is the first guy to help Gasol up, and Randolph told me over Christmas that he just loves playing next to the big Spaniard, despite what should be a culture gap. He's the first to applaud a teammate, first to stand up for him in a tussle, first to help Darrel Arthur learn what he needs to be doing. And all of that is before you factor he was the Grizzlies first All-Star since
Pau Gasol
, he leads the team in scoring, is a double-double machine, and is arguably their best overall player. How do you
not
reward a player for doing everything you've asked of him and more?
The trick is going to be for the two sides to find a compromise. If Randolph's looking for the standard deal with considerable increases as the contract progresses, the Grizzlies will balk. Randolph at 34 isn't going to be nearly the same player he is now. Front-loading the contract is the best-case scenario, but relies more on Randolph's ability to manage his money. The real issue in all this is the CBA. The Grizzlies are probably looking to see how the new cap situation shakes out before evaluating how much fair market value is for Randolph in the new universe being created in the boardrooms. Would it have been right for the Grizzlies to cave and give Randolph is fair share this season? Sure. But that's not how you build for the future. You do it carefully, and shrewdly, and emotions aren't part of the process.
Just ask Danny Ainge.
So the Grizzlies try to push for the playoffs, a must with the kind of improvements they've made, and hope for the best. If they fall short (check
their schedule
for the rest of the month, it's a gauntlet wrapped in barbed wire on fire), ownership could hit the roof and pull the plug on everything but what they've committed to. Which also might spell the end of professional basketball in Memphis.
As is the case seemingly everywhere this season, there's a lot going on in Memphis on and off the court.