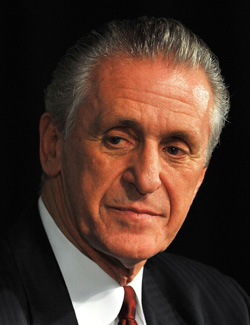 Pat Riley denies for the 100,000,000th time that he's considering taking over as head coach of the Heat for Erik Spoesltra.
Posted by Matt Moore
This story won't die. The Heat could win seven championships in a row and the first losing streak they went through, everyone would run to Pat Riley and start bugging him about when he was going to take over coaching the Heat. Riley made this bed when he axed Stan Van Gundy, a great coach in his own right to take over the 2006 championship club. There's no getting past that with the media. We live for patterns and recurring stories. It's just the way the beast operates. But for his part, while the Heat are falling apart/melting/losing a number of regular season games against good teams in a row, Riley is being painfully clear that he has no intent of Brutus-ing Erik Spoelstra.
From the
New Jersey Star-Ledger:
Star-Ledger: Did you look online this morning? There was yet another headline about Erik Spoelstra's job security.
Riley: "Write it off. Write it off. It's the media being neurotic. It's their need to make a story, create a story, and make that story come true. And that ain't going to happen. Write it off. We're just in a tough time right now, we'll get through it."
via
Big East Tournament: Miami Heat GM Pat Riley tries to avoid talking about team's issues | NJ.com
.
Riley went on to say that the Heat need a legit big man but they wouldn't get it this year, which makes everyone stare awkwardly at
Joel Anthony
. At least
Erick Dampier
and
Zydrunas Ilgauskas
have the excuse of being oldser than dirt.
Riley's not taking over this team. He's moved past the point of wanting to coach. And if it becomes dire enough for him to have to take the reins, he's not doing it with less than 20 games left in the season. It's too much upheaval, too much for him to try and get caught up on, too much for him to have to ramp up to in too short of time. The Heat are what they are, for better or worse. The sooner we can all accept that, the sooner we can move on to saying Larry Brown should be brought in to coach the Heat. Wait, what?