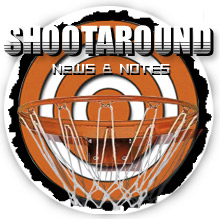 Lakers-Heat much? Also Tony Allen would be an All-Star in a distant galaxy, Perry Jones is probably draft-bound, and Rudy wouldn't go to Europe. All this and more in today's Shootaround.

Posted by Matt Moore
On the Lakers and
waiting for the other shoe to drop
.
Our brethren at the
CBS College Basketball Blog report
on Perry Jones' suspension. You have to think this means he's headed for this summer's draft if he wasn't locked in before. We've seen this situation before where a freshman gets tagged for improper benefits, then bolts for the NBA leaving the school to deal with the consequences of a ridiculous system. Jones should go top five, especially with as many players as may stay in school due to the lockout.
The
Heat
's biggest problem?
Dribbling
.
In case you missed it, here's the H
eat's crunch time scenarios
broken down in excruciating detail by Royce Young.
The Heat
could learn a thing or two from the Lakers
, Ben Golliver said Wednesday.
The
lob is severely missing
from the Heat's arsenal.
In another universe with the same production, Tony Allen
would be an All-Star
. What this article overlooks, however, is Allen's penchant for going into ISO situations when completely inappropriate. If Allen worked more in the context of the offense he'd be a stunningly good overall player. He also wouldn't be Tony Allen.
Ironically,
Rudy Fernandez
is one of the few players who wouldn't go looking for a job in Europe
in the case of a lockout because he doesn't want to leave his teammates hamstrung. He's only willing to do that to his American teammates.
Interesting note:
Mo Williams
waived his right to opt-out into free agency
this summer to complete his trade to the
Clippers
.
Tracy McGrady
started again
as
Rodney Stuckey
was moved to the bench, since John Kuester doesn't want to get into a set rotation before he's fired... I mean... before the end of the season.