Posted by Royce Young
There is a good chance when two good teams hook up that it'll come down to the fourth quarter. And if we're lucky, maybe the last six minutes. And if we're
really
lucky, it'll come down to a couple possessions.
But that's been the problem for the Miami
Heat
lately. Those last couple possessions. More specifically, the
last
possession. And with the red-hot
Lakers
coming to Miami Thursday with the Heat desperate for a win, there's definitely a chance the floundering Heat will be looking at a crucial possession with a few ticks left on the clock again.
That scares people. Specifically Heat players and probably even Erik Spoelstra. Because in games decided by five or less, the Heat are 0-6. In two possession games, they are 8-14. In games decided by three or less they're 2-8. And with the ball in their hands with a couple seconds left with a shot to tie or take the lead, the Heat are just 1-16 from the field.
Yikes.
Where are the problems at? Is it as simple as just taking it away from LeBron and handing it to
Dwyane Wade
? Is it a clipboard problem -- are they even getting decent looks? Judge for yourself.
Play 1: [At Hornets, trailing 96-93 with 7.2 seconds left]
The play appears to be designed for Wade curling at the top of the key off a
Chris Bosh
screen. The first problem is that Bosh's screen is incredibly weak. He looks more concerned about peeling off and setting up as an option at the 3-point line rather than standing firm and putting a good hard pick on Willie Greene who is chasing Wade.
Wade swings it to
Eddie House
-- a good 3-point shooter with a lightning quick release -- who gets a decent look, but misses. A solid play, a good decision by Wade to pass, but House just didn't put it down.
Play 2: [Versus Jazz, trailing 116-114 with 0.5 seconds left]
This one almost isn't fair because getting a decent look with 0.5 seconds remaining is ridiculous. But what's not excused is Wade missing a free throw with a chance to put the game away in regulation. Since that happened,
Paul Millsap
was there to send the game into overtime which resulted in having to take that desperation 3 in the first place.
Play 3: [Versus Mavericks, trailing 91-90 with 24 seconds left]
I really don't understand this one. This is probably the worst possession of the bunch. First, you're down one. You don't need to shoot from 25 feet. Second, there are still 10 seconds left on the shot clock and 24 for the game. There's no reason to fire that prematurely. And third, why is Chris Bosh taking that 3?
In a lot of these last second situations, you take the first, best available look. But that really only applies to your stars or 3-point marksmen. Having Bosh fire doesn't make sense.
Play 4: [At Bulls, trailing 99-96 with 4.4 seconds left]
I really like the play design here. Having Wade catch the ball with space (nice screen
James Jones
) and on the move is always a good thing. But it breaks down because the timing doesn't click well. The pass isn't in the right spot from
Mario Chalmers
making Wade reach back a bit to catch it. Then Wade doesn't get turned quickly, which shuts off the space he had in the first place. He pumps and is forced to fire a contested 3 that airballs.
Play 5: [Versus Hawks, tied at 77-77 with 4.2 seconds left]
A dumb possession all around. The Heat move the ball around to perimeter aimlessly and if you'll notice, there's actually a second difference on the shot and game clock. So LeBron is forced to fire a deep 3 with a second left on the 24.
Why that's the shot you get in a tie game with LeBron and Wade on your roster makes no sense to me.

Play 6: [Same game in overtime, trailing 91-89 with 12 seconds left]
Again, a shot clock issue. The Heat have just mismanaged a lot of these situations with poor awareness of the clock. Miami ends up with pretty much the same result that happened in regulation. A deep LeBron 3 that's forced because his back is up to the shot clock.
What's becoming more obvious as you run through these plays is that a big reason the Heat are shooting so poorly in these situations isn't because they're choking, it's because they're getting horrible looks.
Play 7: [At Knicks, trailing 91-88 with 14.1 seconds left]
I remember this game vividly because I was so frustrated watching the Heat's offense the last 10 minutes. You wouldn't believe it, but this is probably the best play Miami made during the entire fourth quarter.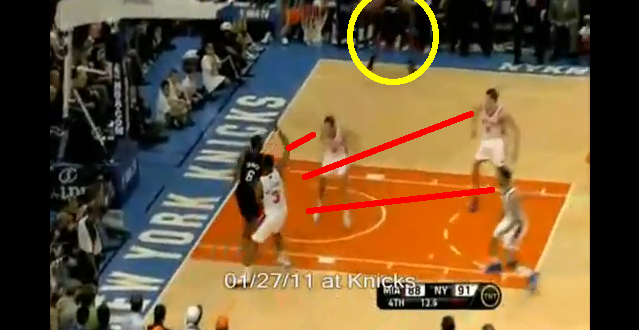 Needing a 3, LeBron draws in
four
New York defenders and absolutely makes the right play here, kicking to a wide open Mario Chalmers in the corner, a capable 3-point shooter. A lot of people criticized the Heat for not putting the ball in the hands of LeBron or Wade here to make this shot, but as we saw in some of the prior plays, that hasn't exactly worked. So it's a trade-off. Either you get a quality look for a decent shooter or a forced, contested look for your go-to players.
Play 8: [At Celtics, trailing 85-82 with 6.3 seconds left]
I could watch this set all day. A wonderful design and even better execution. Not only does probably your best 3-point shooter get a wide open, clean look, but it comes in rhythm and within the structure of the play, meaning Miller has likely practiced this exact shot at least a hundred times.
It's all there because of a bone-crushing screen from Wade and an on-time pass from LeBron. Miller just missed. It happens.
(There is another field goal attempt hidden at the end of this as Wade tried to tip in the miss.)
Play 9: [At Bulls, trailing 92-89 with 16.0 seconds left]
When you watch this one, you'll probably wonder like me why LeBron didn't take the shot he had on the catch. He had room and would've been stepping right into a 3. I really don't think he expected to be that open there, so he pumped and move over for a more contested look.
A quality shot though and when you're trailing by three with 15 seconds left, you're caught in that in between area of needing a 3 or a 2. Whatever you decide, it needs to happen quickly because if you miss, you need to leave some time to go for an offensive rebound or still foul and hopefully extend the game. That's why LeBron shot so early.
Play 10: [Versus Knicks, trailing 87-86 with 10.5 seconds left]
The people got what they were calling for. LeBron attacked Carmelo Anthony and beat him at the rim. Problem was,
Amar'e Stoudemire
was lurker with a perfect rotation and awesome swat at the iron. There's really nothing to complain about here. You got a great look in the paint for one of the best finishers in the game. A great player just made a great defensive play.
Play 11: [Same game, trailing 89-86 with 6.7 seconds left]
This is the play where people started wondering why Wade isn't take these shots. After LeBron failing the possession before, Miami comes back to him again needing a 3. He pumps and gets a decent look but LeBron not being a great shooter, misses. I prefer running a play like they did for Miller or LeBron creating like he did for Chalmers in these situations, but it's hard to complain too much about a decent look for maybe the game's best player.
Play 12: [Versus Magic, trailing 99-96 with 8.0 seconds left]
Bosh For 3: The Sequel. This one though almost looks like it's drawn up for him, which obviously makes no sense. My instinct says the play is actually for
Mike Miller
who is throwing the ball in. I'm betting it's supposed to go to Bosh, who hands off to Miller, hopefully rubbing off the defenders chasing Miller.
That's what I thought the first time I watched it. But then you see Miller had no inclination to get the ball back and that LeBron set a nice screen freeing Bosh for what really is a good look. Again, the problem is that it's Chris Bosh taking the shot.
The Heat get another look after Miller does a great job finding the miss and kicking to a wide open LeBron. If you watch closely, it looks like LeBron hesitates, almost looking like he wants to pass.
Oh come on, not me again.
He didn't really have anywhere to go so he shoots and comes up short. That's a shot you'd hope he'd make though. Open, under control and in rhythm.
Play 13: [Versus Bulls, trailing 87-86 with 15.5 seconds left]
Really, in all these looks, this is one of the few true isolation sets the Heat have run. But that's because they haven't had a ton of opportunity to do so because they were trailing by three in a lot of these situations.
The Heat clearly pulled Bosh up to screen
Luol Deng
to try and get a switch. They got it, bringing
Joakim Noah
on to LeBron. Look how much open space there is for LeBron to attack Noah with there. It's ideal!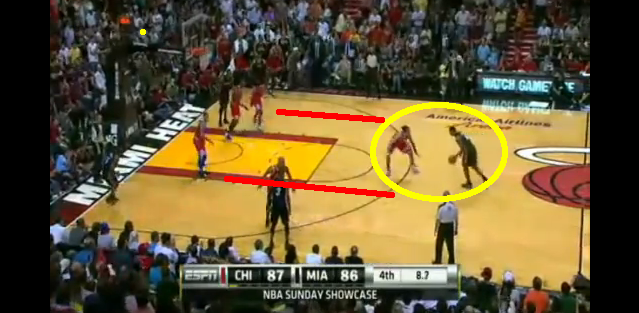 My issue here is that first, LeBron attacks left with is not only his weak hand, but it allows Noah to defend the rim with his strong, his right. Also, you'll notice after his "screen," Bosh went to the right block, taking Deng with him. So when LeBron attacks left, it means Deng gets to rotate over, using his length to contest. If LeBron goes right, he takes Deng on head on with Noah on his hip. Hindsight being what it is, I think it would've been better.
But again, LeBron going at the rim in a one-point game. Isn't that what you want? Yes, some people would've like Wade here and obviously that's a fine choice, but I don't really see a whole lot wrong with this effort.
(And of course Wade missed the follow, which was a really tough shot.)
Overall after running through all of these plays, what's obvious is exactly what Dwyane Wade said. The Heat just need to stop putting themselves in these situations. Preferably not the way they did Tuesday against the Blazers by getting beat by nine, but by maybe being on the high end.
When you have this many crunch time opportunities, it also means you have a lot of chances to fail.
Seven of these situations came with the Heat down three, which means they need to make basketball's most difficult shot with the defense knowing they have to take it. That's a tough situation. I honestly don't think the Heat have done that poor a job in crunch time. They've run some good plays, got good looks for their best players but they just haven't scored.
I'm not a big believer in clutch because it's kind of an overrated catch phrase. So I don't think the Heat are unclutch. We know LeBron can make shots. We know Wade can do it. We've
seen
them do it in big situations.
But if Thursday's game against the Lakers comes down to it, after failing 16 times, the easy thought will be here we go again. And that's often the toughest hurdle to get over.