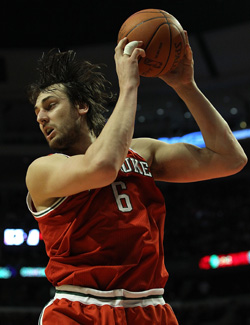 Andrew Bogut plans arthroscopic surgery on elbow at season's end.
Posted by Matt Moore
Andrew Bogut missed the
Bucks
' playoff run last season and the beginning of this season after a fairly terrible elbow injury. But he hasn't been the same, as his points per game are down five points and his shooting perentage is down 4 percentage points. He's been open about not being anywhere near 100% healthy, and eventually that has to be his priority.
As a result, Bogut
told the Milwaukee Journal-Sentinel
that he's planning on elbow surgery after the season is finished to clean up the scar tissue in that elbow. It's just arthroscopic surgery, but it'll still mean an impact on his offseason training.
"I want to have it straight away just to get a head start on the rehab and get back in the gym," Bogut said. "I want to shoot the basketball a lot this summer. The more time I can get out on the floor working on my shot, the better."
There's no telling on how long it will take Bogut to get back to full strength, but it's yet another in a very long line of injury issues that seem to keep Bogut from being the franchise center he's shown so many flashes of being.
The Bucks are two and a half games back of the 8th playoff spot in the East.