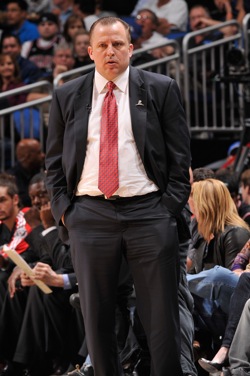 Posted by Royce Young
An interesting tale was told to the Chicago Sun-Times
by Chicago
Bulls
owner Jerry Reinsdorf. It was the story how he hired supercoach, Tom Thibodeau.
''Tom Thibodeau was first recommended to me by [U.S. Secretary of Education] Arne Duncan,'' Reinsdorf said during an exclusive interview with the Sun-Times on Tuesday. ''And that was two years earlier. The Celtics didn't give us a chance to talk with him until after the playoffs, when they won the championship."

...

'When the job was open again, I talked to Duncan several times on the subject, and he still strongly recommended Thibodeau,'' Reinsdorf recalled. ''So we hired him. Then in July 2010, the White Sox were playing in Washington, and we invited President Obama to come to the game.

''First, David Axelrod [then Obama's senior adviser] arrived and said, 'Thanks for hiring Thibodeau.' Then a little while later, President Obama came in and the first thing he said to me was, 'Great hire.'
(Of course the job "opened again" because they had just fired Vinny Del Negro.)
Off the top of my head I can't really remember who other candidates were for the job that summer, but I can bet that they didn't have cabinet members backing them. That's a pretty good letter of recommendation Thibodeau had attached to his resume.
Let's see, you were the defensive architect for one of the best defenses ever, won an NBA championship because of it and our entire government recommends you? You're hired!
Reinsdorf makes it sound like Arne Duncan's recommendation was the sole reason the Bulls hired Thibodeau though. And I guess that could be true. Just like Reinsdorf to completely stumble in to a good thing. Give him 15 years and a couple championships and he'll run him out of town.

Via PBT