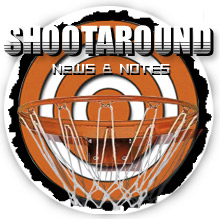 Posted by Royce Young
From those that brought you "Did the Cavs win last night comes the sequel: Did the Heat cry last night? Just brilliant.
Mark Cuban is interested in Ricky Rubio: "The thing about Europe is it doesn't necessarily translate in terms of points and assists," Cuban said. "You've got to look at talent, you've got to look at game IQ and you've got to look at age. I don't think if he came in now he would dominate the league or anything like that. But I think he would have a big impact here."
Surgery for Bogut... after the season: "I want to have it straight away just to get a head start on the rehab and get back in the gym," Bogut said. "I want to shoot the basketball a lot this summer. The more time I can get out on the floor working on my shot, the better. Whenever the season ends, hopefully the next day or two after, get it out of the way. Spend a week in Milwaukee and then fly back to Australia."
Mike Bianchi of the Orlando Sentinel: "We are going to wake up someday soon and Stan Van Gundy will be gone. Gone without a trace. Nobody will know where he is. Not his family. Not his team. Not the police. Not even Chris Broussard of ESPN. This is what happens to freedom fighters who lead resistance movements and try to take on dictatorial tyrants like Colonel, er, Commissioner David Stern. They get captured, muzzled and shipped to either the Siberian salt mines or the Sacramento Kings where they are locked in a dingy cell and interrogated by Jim Gray."
Lost in Miami losing again is the fact the Blazers picked up huge back-to-back road wins. Jason Quick of The Oregonian: "Apparently, it was quite the scene inside the Portland locker room Tuesday night after a suddenly healthy and fortified group of Trail Blazers turned in the performance of their season during a 105-96 victory over the Miami Heat. 'You should have seen this locker room after the game,' said 15-year veteran Marcus Camby. 'Guys were cheering and jumping around like we won the NCAA championship. That's a great feeling to be around.' It was a surprising, if not spectacular, performance from the Blazers (37-27), who are tied with Denver for fifth place in the Western Conference and played one of their best games in years."