The Denver Nuggets have signed head coach George Karl to a contract extension. Posted by Ben Golliver.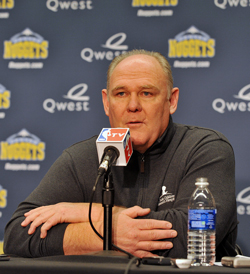 We're seeing an interesting pattern developing in the Northwest Division: over the last week, three teams in flux have moved to stabilize their future by locking up their head coach to a long-term contract extension.
First, on March 2, the Utah
Jazz
extended coach
Tyrone Corbin's deal in the wake of Jerry Sloan's resignation and the trade of franchise point guard
Deron Williams
. Then, earlier Tuesday, the Portland
Trail Blazers
extended coach
Nate McMillan's contract following another season squandered due to a string of injuries, including to potential franchise players
Brandon Roy
and
Greg Oden
.
Tuesday afternoon, the Denver Nuggets joined the list, extending the contract of head coach George Karl just weeks after the team traded franchise forward
Carmelo Anthony
to the New York
Knicks
.
ESPN.com reports
that "George Karl and the Denver Nuggets have agreed to terms on a new contract extension, according to league sources. Exact terms of the deal are not known, but one source said the multiyear extension is worth at least three years."
CBSSports.com's Ken Berger
reports
that it is a three year deal with team options for a fourth, fifth and potentially sixth year.
The deal has team options for the fourth, fifth, and sixth years, said Karl's attorney, Bret Adams -- a huge commitment from the Nuggets at a time when coaches have so little job security.
"I think with this team, they just have great confidence that this is a team that's coachable and there's not a more experienced or better coach to do it than George," Adams said. "They stuck with him last year with the cancer, and to take it the next step with this long-term commitment, I don't think George could be any happier with his future. He wanted to be there, they wanted him there, and with this team it's a whole new re-energized George after the trade."
The deal obviously gives Karl a significant measure of job security and personal stability, and it comes less than a year after Karl missed Denver's playoff run last season while battling cancer. Given the Nuggets' success and Karl's ability to overcome a life-changing health ordeal and a franchise-altering player depature make this is about as fairy tale an ending as an NBA coaching extension can get.
Basketball-wise, Karl's situation is very similar to McMillan's, as both work for first-year GMs, both boast consistent, winning track records and both are now at the helm for franchises that enter next season with new self-perceptions now that their star players have either been traded (Carmelo Anthony) or limited significantly by injury (Brandon Roy). Both relish the underdog role and have been recognized for their ability to coach overachieving teams through adversity. As it happens, McMillan played for Karl in Seattle and there's a certain poetic justice that their contract extensions are announced on the same day.
Nuggets GM Masai Ujiri drew praise for the package of players he finally received after months of trade rumors involving Anthony, and he certainly deserves praise here. An extension for Karl was expected after weeks of hints about a forthcoming agreement, but locking up a top-tier coach should never be taken for granted and the added measure of flexibility with the extra team options is just the icing on the cake. Without Anthony, Ujiri needed something to sell to his current players and free agent targets and, if only temporarily, Karl has now become the face of the organization. Masai was brought on board to help Denver navigate towards its post-Carmelo future; with Anthony traded and Karl locked up, Masai's first two missions are accomplished. Now, he can really get to work on the future.