Posted by Royce Young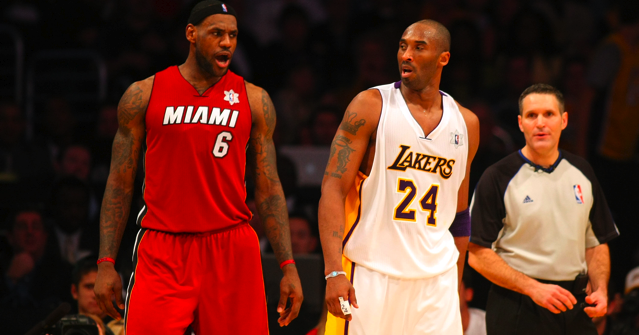 Kobe Bryant
joined ESPN 710 LA to talk
about the
Lakers
blowing out the
Spurs
, what's changed since the All-Star break... ah who am I kidding. He talked a lot about the
Heat
crying.
What are your thoughts on the Miami Heat situation where players were supposedly crying after Sunday's loss to the Bulls? What would your advice be?

"I don't really have any advice. I mean you know they have their own issues over there. Every team has issues. That's part of the season. If you don't have issues you know then you're not a team. Everybody responds to adversity differently. You know what I mean. It doesn't make it right. It doesn't make it wrong. Everybody has their own way of dealing with things, but it's how you come out of that, really that's the true mark of a king."

Have you ever come close to crying in the locker room?

"No. Uh no."

Are you in a position where you can honestly respond to the Heat crying in the locker room? You don't cry do you?

"We don't care too much about bulletin board stuff, but that means nothing to me. I'll give you an honest answer. I mean it's…everybody truly responds differently. If guys are crying in the locker room, they're crying in the locker room. It doesn't mean they're chumps, doesn't mean they're soft, doesn't mean anything. That's just how they respond to it."
Not that it matters, but I'm with Kobe on it. I don't think it's a big deal. If guys were teary in the locker room after a tough game where they spent two and a half hours battling for something they really, really wanted only to come up short, it's not a big deal to me if they get a little emotional. They cared. They wanted to win. Again, isn't that we all want from our professional athletes?
Now they didn't ask Kobe the real question here: Would you have been entirely peeved at Phil Jackson if he let the cat of the bag and told reporters some guys were crying? Because to me, that's more of the issue than the actual crying. The fact Erik Spoelstra dropped that out there is the story, not that the actual guys were crying.
Then again, if Jackson did it we'd all just recognized it as some kind of clever mind game to get
Andrew Bynum
's attention and praise the Zen Master.
Oh, and by the way, Kobe talked a little about how the Lakers are the hottest team in the league having won seven straight. But who really cares about that when the Heat are crying.
Via Sports Radio Interviews