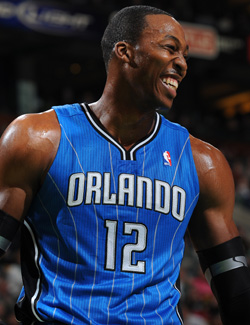 Posted by Royce Young
2012 is quickly becoming the next deadline. Not for the end of the world like Roland Emmerich says, but for the next batch of NBA stars to make a free agency decision. The prize of that class is probably Dwight Howard.
There is already some talk of Howard showing interest in other places, also news that New Jersey has him as their main target. But what about Howard? What are his thoughts?
Via the Orlando Sentinel, Howard said on a radio show that he's happy where he is and would like to stay.
"I love Orlando. The city has been very good to me and I would love to finish my career here. I want to win a championship and I want to win it in Orlando," said Howard. "That's all I've been thinking about."
Howard was then pressed if he'd leave Orlando even if the Magic won a championship and evidently Howard sidestepped the question.
It's a little different approach for Howard than what some of the other stars have used. Other players like LeBron,
Chris Bosh
and
Carmelo Anthony
said leading up to their free agency that they just wanted to keep their options open. That little turn of phrase has kind of become the black spot for stars' current teams.
Luckily for Magic fans, Howard hasn't said that. He just said that he loves where he's at and even extended it to "love to finish my career here." That doesn't necessarily mean it's true, because remember what LeBron said about bringing a championship to Cleveland. What Howard is basically saying is, "Leave me alone about this and let me play right here, right now."
It's something he's going to have to get used to as 2012 nears though. It's just the way it is in the NBA right now.