Posted by Royce Young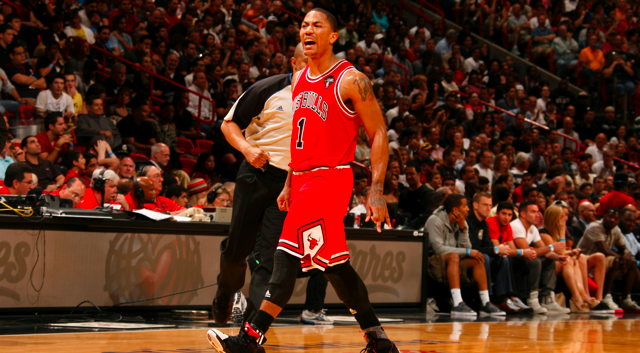 We've all been talking about the MVP, well, since before the season even started. We're fascinated by it. Winning the award is something that places you with the legends.
And with two-time winner
LeBron James
taking his talents south to join forces with
Dwyane Wade
, most felt like for the first time in a few years, the trophy has opened up to the field.
There's a little more than a month to go before the NBA regular season closes its doors and while teams are battling for playoff position (or ping-pong balls), there's also a pretty good skirmish going on for the MVP. Most would agree it's kind of narrowing down to a three-man race, but I see it as five that still have a shot at winning the award. Here's what each needs to do to maybe get his name etched on the Maurice Podoloff Trophy.

Derrick Rose:
He's already jumped the biggest hurdle. He has everyone buzzing about his candidacy. National talking heads bring his name up first in most every discussion and he's near the top of every list. Rose asked before the season why he couldn't be the MVP and it appears that he's answering his own question: He can be.
Rose has the leg up on the competition because he plays in an extremely visible market for a traditional power that's winning. He's carried a wounded
Bulls
team to Eastern contention and has put up sexy stats to go with it. He's missing a couple signature moments though, as the Bulls tend to win close games more on the defensive end than by Rose taking over. For instance, against Miami, while he had some big buckets in the fourth, he almost gave the game away with a bad backcourt turnover and an airball. The Bulls won anyway, so we forgot about it. But Rose needs a moment or two.
In the end though, I think he'll win this award if the Bulls just keep winning. If they can push all the way to 60 wins, the award is entirely Rose's. But if they can at least overtake the
Heat
, it'll be hard to rule against him.

Dwight Howard:
You can't deny Howard's numbers. They are, well,
insane
. Look at the path of destruction he left in February: 27 points and 14 rebounds per game on almost 70 percent shooting. And he's picked right up from there so far in March.
But playing a position where it's tough to win, plus the increasing issue of his technical problem, Howard isn't going to win this award unless the
Magic
make a run. He's picking up steam and people are taking notice of what he's meant to a jumbled Magic roster. But finishing fourth or fifth in the East probably isn't going to get it done when Rose's Bulls are pushing for the top seed.
The Magic need to finish really well behind the strength of Howard. If that happens and Orlando gets to third in the East, he could absolutely sneak in and steal the MVP. But Howard's not winning unless his Magic overtake Rose's Bulls.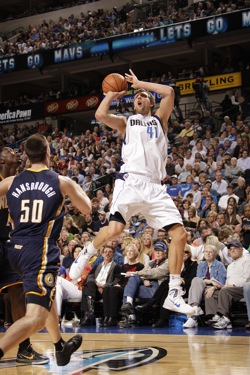 LeBron James:
All we are thinking about right now with LeBron is failure. We're thinking about the shots he's missed in crunch time, how he's come up short in big moments so far for the Heat. His numbers are pretty much as good as ever and with the way the
Cavaliers
have tanked without him, his perceived value is pretty much at an all-time high.
But if he's going to take a third straight MVP, he's got to come up with some big plays over the next month. The Heat are going to finish with a nice record and their share of wins. LeBron will have eye-popping stats as always. But to separate himself in terms of value, he has to become The Guy That Wins Games. Right now, people associate him with missing big shots or with coming up short.
His team isn't beating the good teams and he's accepted responsibility for that. He can still win this thing because he's freaking LeBron James (don't forget that, but in order to do it, he's going to have to win back a lot of doubters.
Dirk Nowitzki:
In terms of pure resume, nobody has a better one. He's been awesome this year. His team has been awesome. Without him, they lost, a lot. I think with those three things, Dirk meets the incredibly vague MVP criteria as good as anyone.
Dirk has one MVP to his name so it's not like he's some long shot, unsexy pick here. He's one of the league's elite scorers and leaders. He means as much to that
Mavericks
team as anyone else on any roster. He's not a highlight factory. He doesn't finish above the rim. His defense doesn't catch your eye. But he hits big shots, comes up in big moments and his team just wins, with him at the center of it.
It doesn't
feel
like Dirk is going to win this thing because the buzz doesn't appear to be there, but don't ignore him. He needs some big time box scores and some big moments to grab attention because just winning and playing well doesn't seem to be doing it.

Kevin Durant:
The preseason favorite and as a result, he was cursed by high expectations. Everyone loved him to win this award and while he definitely had the needed hype, he also had the burden of expectation. People figured he would just build on last season's awesome campaign by following up with an even better 2010-11. The reality is, his team is better, they're going to win their division, probably finish fourth in the West (or higher) and he has pretty similar numbers to last year, where he finished as the runner-up to LeBron.
It's not Durant's fault that you penciled him in for 35 points per game this year. He's still having a terrific year and is going to win his second straight scoring title, all while his team improved and is a real contender in the incredibly tough Western Conference.
If he's going to get his name to the top of the list though, he has to finish strong. He needs a couple massive efforts, some late game heroics and for good measure, it'd be nice if the
Thunder
could get on a roll and take over third in the West. Durant's a big of a long shot right now, but he definitely has the chops to get there.
FOUR DARKHORSES
These four won't win, but they deserve a mention:
LaMarcus Aldridge:
A player that elevates his game when the franchise player goes down for an extended period and therefore, his team wins more? I think that qualifies someone for MVP consideration. After
Brandon Roy
had his knees scoped, Aldridge cranked his game to another level. If the Blazers could rip of a good streak and get into the top four of the West, I'd be inclined to give him my imaginary vote.
Manu Ginobili:
He's having one of his very best seasons for the best team in the league. When you look at the
Spurs
roster, it's hard to locate an MVP because nobody's numbers pop out. But Ginobili has been awesome for them.

Zach Randolph:
The
Grizzlies
are rising, and this is without Rudy Gay. The reason? Zach Randolph has been spectacular. He's averaging 20.3 points and 13.0 rebounds per game. If his name was
Blake Griffin
and he jumped over compact cars, we'd all be freaking out about everything he did. Don't short Randolph just because of his market and because of his style.
Russell Westbrook:
Look at his numbers compared to Derrick Rose. Westbrook's are actually a bit better. Yes, he plays with Durant, but LeBron plays with Wade and that's not hurting things. Hey, I'm just sayin'.