Posted by Royce Young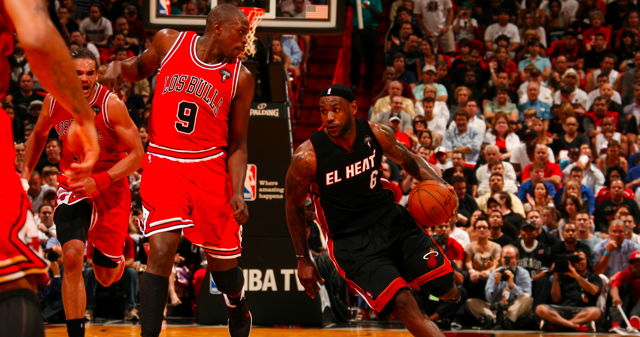 With about six minutes to go and the
Bulls
and
Heat
tied at 74-74, it was obvious that this game meant a lot more to one team than the other. After blowing a big lead to the
Magic
and then getting
blown out
by the
Spurs
, there was a level of desperation you could just see for the Heat.
They wanted this game. They
needed
this game.
And yet again, they had a chance. With 15 seconds remaining and down one, 87-86, Miami had possession. The play was an isolation for
LeBron James
, who got a switch, bringing
Joakim Noah
onto him. LeBron attacked Noah left, but the Chicago center did an excellent job of using his length to make LeBron go high off the glass. The shot missed, but
Dwyane Wade
tracked down the rebound, heaving up a fadeaway jumper at the buzzer that came up short.
As soon as Wade's shot clanged short, you could see the boys in black completely deflate.
Not again. Please not again.
Erik Spoelstra said post-game that some of the players were crying in the locker room. And that might kind of been the problem. Overvaluing a game in March isn't a bad thing.
Heck, I wrote just yesterday that this game was important for Miami.
But because they wanted it
so bad,
they were tight, anxious and uncomfortable.
There's a difference between outside noise creating pressure and just the importance of winning doing it. Postseason basketball makes you tight, but by that time it's not about proving anything to yourselves or learning how to win. It's just about winning. All that outside stuff is over. That's what the 82 games are for. But right now, the outside noise is turned to 11 on the Heat. The ambiance is deafening. That's why the feel it. And that's why there's a clear frustration.
Here's the thing for the Heat though: They were close. The Bulls played a poor game while Miami saw
Mario Chalmers
flash back to the 2008 National Championship game where he topped
Derrick Rose
and step up with a 3-pointer and a driving layup to give the Heat two-point lead with 25 seconds left. It capped a 7-0 run that brought the Heat back from the brink and put them in position to win a tight game against a really good team.
Two big monkeys were about to jump off.
Except after Luol Deng missed a potential game-tying free throw, referee Tony Brothers stepped in with a fairly awful foul call on Wade, giving Deng two more free throws, which of course he sank and which of course, proved to be the difference.
It was a terrible call in a terrible moment, but those things just tend to happen when you can't figure out how to win in close games against good teams. And it's not like the Heat didn't still have their chance. A stat flashed up on the screen prior to Miami's final possession that in the closing seconds, they were 1-14 from the field in typing or game-winning situations. After today, make it 1-16. The only make?
Eddie House
's 3-pointer to beat the
Thunder
.
It's just early March. It's not time to freak out entirely. The Heat are still good, they still have good players and they can still get things together. But it feels like they are on the brink of falling hard. When the Bulls took a five-point lead late in the fourth and Wade overthrew
Mike Miller
for a bad turnover, the team's frustration started to boil to the top. Wade openly yelled at Miller, and the finger pointing started. Without Chalmers big step up and a costly turnover by Rose combined with a bad shot, the Heat might've not even had the chance they did.
Don't misunderstand, the Bulls are good. These past three losses for the Heat aren't bad because again, dropping consecutive games to Orlando, San Antonio and Chicago isn't anything to hang your head about. But this Heat team is being held to a higher standard, one they imposed on themselves. They want greatness, but they don't know how to get there. It definitely means something to them, but they are missing something.
Spoelstra keeps preaching to "trust each other," but I wonder, is that the problem? Chalmers stepped up Sunday, but really, do you want Mike Miller and
Erick Dampier
taking big shots for you late? Of course you've got to play together, but at some point, the best teams win because their best players make plays. And that doesn't seem to be happening in Miami.
When LeBron was in Cleveland and Wade had this team to his own, it was clear what happened in the last five minutes of a tight game. Now there's just kind of a level of awkwardness to it. Wade wants to take over, but wants LeBron to take over with him. And vice versa. It makes for discombobulated offense that's only rescued by a bailout shot by
Chris Bosh
or Chalmers.
Trust certainly is a factor in teams moving from good to great, but at some point, Wade and LeBron have to quit trusting in each other and just do it themselves. With the loss to Chicago, the Heat are now 14-18 against plus .500 teams. And the road isn't getting easier over the next 10 days. There's a problem to be fixed and just crying in the locker room isn't going to get it done.
But here's the good thing about playing all these good teams coming up: more opportunities to shut everybody up. A couple big wins and the tears after Sunday's loss will be forgotten. That's the thing though: They've got to start winning or it'll just get worse.