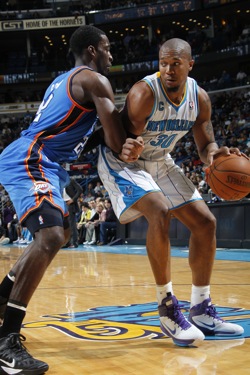 Posted by Royce Young
David West
is an unrestricted free agent this summer and hasn't been shy about saying he wants to explore some options. The power forward has always been happy playing with the
Hornets
and
Chris Paul
, but is still going to look around a bit.
He was asked about the New Jersey
Nets
and
told the Star Ledger that he finds them intriguing.
"I think that team, obviously, is a lot more interesting than they were," West said. "They were so young before they made that deal, and nobody saw that deal coming. I don't know. I know it's a team that has some (cap) space and a need, but it's ... like I said, when the time comes, we'll see what's out there. Again, at this point in my career, money won't really be the number one (criterion)."
The Nets are obviously committed to pulling in some big name, talented players to convince
Deron Williams
to stay. West would be a nice start for sure and someone that could fit in well next to Williams in the pick-and-roll/pick-and-pop.
The question is whether or not the Nets would be willing to commit precious cap space to West, especially if they're serious about going after
Dwight Howard
in 2012. But like I said, the window won't stay open long to prove to Williams that the Nets are a worthy franchise to re-sign with. So going after a player like West might be absolutely necessary.
Currently
Kris Humphries
is New Jersey's starting power forward and while he's been solid, he's also on an expiring contract. He's probably better suited in a role off the bench and if West is an option, Humphries will quickly become an afterthought.
This summer is important for the Nets because they can't just stand pat with Williams. The move to Brooklyn is coming and the team needs to have a competitive group ready to go for the new town and new building. And for their new star, too.