Posted by Royce Young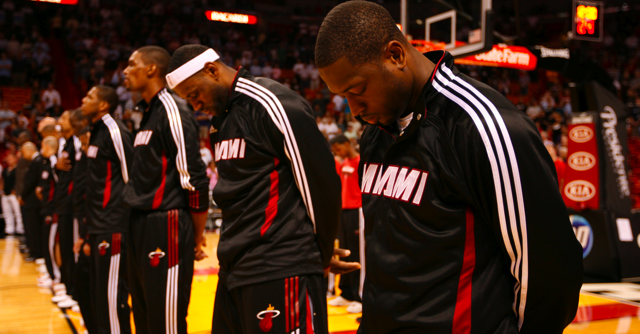 Losing consecutive games on back-to-back nights to the
Magic
and
Spurs
isn't anything to hang your head about. It's nothing to worry over or start pointing fingers about. The season is long, bad nights happen and losing to good teams happens.
But for the
Heat
, it wasn't just about losing to those two teams. It was the
way
they lost.
In the first game, Miami blew a 24-point lead at home while watching Orlando close on a 40-9 run, eventually losing yet again on a missed LeBron James 3-pointer at the buzzer. In the second, the Heat were dominated from the very beginning, watching the Spurs drop 17 3s on them en route to a 30-point butt-kicking.
In the last two games, Miami has allowed opponents to hit 33 (thirty-three!) 3-pointers on 58 percent shooting. Orlando went 16-29, San Antonio 17-28. That stinks.
And heading into Sunday against the
Bulls
, things don't get any easier.
The Heat have feasted on poor and mediocre teams this season, running up a record of 29-2 against teams under .500, but are 14-17 against teams above .500. In close games they've been terrible, going 8-13 in two possession games. They're just 2-7 in games decided by three points or less.
That's the concern. Miami beats the average teams, dominates the bad ones but seems to struggle against good squads. And guess what teams you play in the playoffs? You don't see the Clevelands, Washingtons and Torontos. You get Boston, Orlando and Chicago.
That's why Sunday's game means a little more to this Heat squad. They're in a stretch of games where they play 11 straight teams above .500. So far, they've played three of those and guess what: They're 0-3. Ahead is Chicago, Portland, the
Lakers
, Memphis, San Antonio, Oklahoma City, Atlanta and Denver. With the way the Heat have performed against good teams, there's potential for them to go something like 3-8 in this stretch and really freak people out.
It's not just about responding Sunday from the two terrible games that preceded it for the Heat. It's about proving to themselves -- and everyone else -- that they can beat elite teams. The Bulls are as elite as you can get at this point. They have a true star in
Derrick Rose
, legit big men in
Carlos Boozer
and
Joakim Noah
and a cast of quality role players in
Luol Deng
,
Kyle Korver
and
Ronnie Brewer
. So far this season, Miami is 0-2 against Chicago with losses by three and four points.
Are the Heat a good team? Absolutely. But determining whether they're a true contender lies in these games like Sunday versus the Bulls. Three quarters of the way through this campaign, it's clear the Heat have trouble beating good teams. Here's another shot at it, though. And they better start figuring it out or they're going to be hearing a lot more about over these next couple weeks.