Posted by Royce Young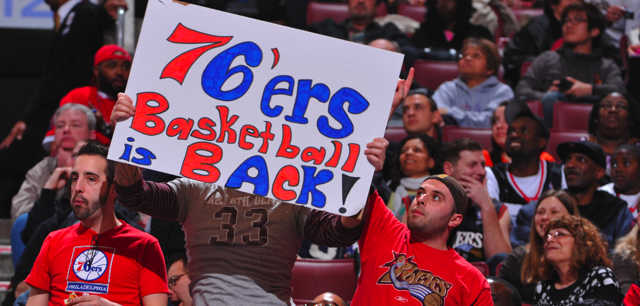 Here's the bottom half of the Eastern Conference playoff picture best summed up: The Detroit
Pistons
, who are 22-41, still have a realistic shot at making the postseason. They're really just a five or six game winning streak away from being right in the hunt.
Save your comments about how bad these teams are for later. Yes, I know Golden State would be an Eastern playoff team right now. Yes, I know 12 teams in the West are better than the current eighth place team in the East. Yes, I know the
Clippers
would have a legit shot at making the postseason. The bottom of the East is really bad, alright?
That's kind of become just the way it is in the East over the years. The conference has become extremely top heavy, with three heavyweights sitting on a perch (Boston, Miami, Chicago), three other talented-but-not-there teams (Orlando, Atlanta, New York) and then the final two stragglers.
The question is, who exactly will be those stragglers? Like I said, it's kind of wide open. The
Pacers
looked dead in the water before firing Jim O'Brien but they won a few games and jumped right back into eighth. That's kind of the way it goes right now.
And the bigger question: Does it even matter who finishes in those last two spots? Does any of the East's bottom playoff dwellers really have a chance of pushing the
Heat
,
Celtics
or
Bulls
in the first round? Most definitely, probably not, but still, being one of the final eight teams in your conference is a big achievement in itself and something to build on.
THE PROBABLES
Philadelphia 76ers (30-30)
Somehow, one of the classic teams in the league in a great sports city have remained almost entirely under the radar, despite putting together an impressive run over the last two months. The 76ers were 15-23 on Jan. 11, but since then have gone 15-7 to get to 30-30. They've gone from being a team poised to blow up the roster, sending players like Elton Brand and
Andre Iguodala
out, to a group that's kind of mildly scary.
Doug Collins has a reputation for being a first season miracle worker and this campaign with the Sixers has been no different. Philly will almost definitely be in the final eight, but the real question is if they can actually push anyone to six or seven games. They've gotten to .500 largely by beating up on the dregs of the East. They take care of business against teams they're better than and stay competitive against teams they aren't as good as. That's a recipe to hang tough against anyone.
Best-case scenario: Philadelphia keeps up its current pace and doesn't just make the playoffs, but actually pushes the
Knicks
for sixth in the East. It's entirely possible too. Right now, the Sixers are just 1.5 out of sixth. If they got there, they'd get Chicago in the first round and actually, they match up decently there.
Worst-case scenario: It's hard to see Philly slipping so far to fall out of the postseason, because come on, look who's chasing them. But they could certainly fall and slip to eighth. Their goal needs to be finishing above .500 for the season, so a worst-case would be with less than 41 wins.
Indiana Pacers (27-33)
I can't get enough of this team right now. Under interim coach Frank Vogel, they've been scoring like crazy, playing with confidence and beating good teams. I can promise you, the Heat don't want any part of these Pacers in an opening round series.
They have a leg up on their next closest competition in Charlotte because the
Bobcats
recently sold off some of their better players. That doesn't guarantee them anything though. Getting to 38-40 wins will most likely lock in eighth in the East and the Pacers look to have the best shot at getting there. They're hot, they're playing together and they have a new energy to them. Plus, they actually have a little talent in
Danny Granger
,
Roy Hibbert
and
Darren Collison
.
Best-case scenario: Consider who they're chasing. It's not like the Sixers are some dominant group. There's definitely potential for Philly to slip. It's hard to see Indiana catching all the way up to the Knicks, but there's no reason the Pacers can't push for seventh and therefore, setting up a seven-game series against the Heat, a team they've played really well thus far. I doubt Indy could top Miami in the opening round, but it could definitely steal a game or two and build some momentum for next year.
Worst-case: They lose five straight and drop out of the picture. Eighth in the East right now is about as fragile a position there is in the league. One moment, you're a playoff team. They next, you're 10 games under .500 and headed for a high pick in the lottery. Indiana definitely is riding that line.
THE OTHERS
Charlotte Bobcats (26-34)
Before the Bobcats did the right thing and became sellers at the deadline, they looked to be prime contenders for a playoff spot. But losing
Gerald Wallace
hurts a lot. There's still enough talent to compete because come on, it's not like they've got to win 50, but it's an uphill climb.
Best-case scenario: Best-case is actually worst-case for Charlotte in this case. They aren't doing themselves any favor by making the playoffs. It'd be nice to sell those tickets for two home games and get that experience, but this team is trying to rebuild so sacrificing that lottery pick probably isn't worth it. So best-case, they drop a number of games, slip further down the ladder and get a higher pick.
Worst-case scenario: The Bobcats don't feel far off from really falling far down the ladder. But they also aren't far off from assuming control of eighth. If Charlotte pulls together with
Tyrus Thomas
coming back, they could easily takeover Indiana and have the right to get swept by Boston in the opening round.
Milwaukee Bucks (23-36)
I wish someone could explain to me why the Bucks aren't in the playoffs right now. There's really no excuse for it, especially considering it doesn't take much effort at this point. The team is basically the same group from last season's surprise postseason squad. Yes, there have been injuries. Yes,
Andrew Bogut
isn't entirely healthy. Yes, they have 46 power forwards on the roster. But this team has talent and for the 50th time, it doesn't take a lot to get there!
Best-case scenario: The Bucks have already put themselves in a hole so just getting to eighth is probably their best shot. They do have the talent to push someone in the opening round though. When you play defense like Milwaukee, you can hang tough against anyone. Nobody is fearing the deer this season, but they could at least run out in front of a contender and dent their car.
Worst-case: They go numb and slip way down. They're just another injury away from becoming about as relevant as the
Wizards
in the East.