Posted by Royce Young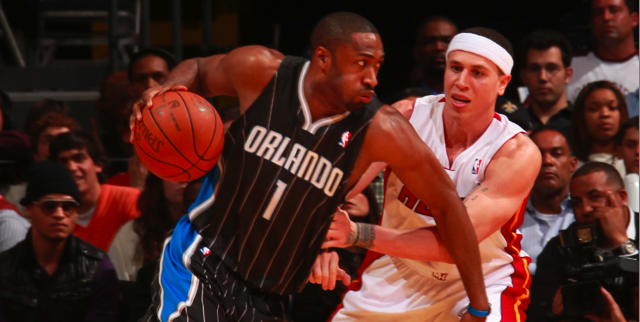 There's a reason you're not supposed to turn off an NBA game with a quarter left, no matter the score. The saying is that everyone makes a run and while that's not always true, when the team trailing is the Orlando
Magic
, you might as well hang in there.
The Magic have that unique ability to fill it up from 3, just piling one shot in after another. And despite trailing by 24 to the Miami
Heat
and looking completely overmatched, all it took was some shots to drop for Orlando to carve its way back into the game.
First, the end result: The Magic beat the Heat 99-96 after two 3-point attempts by Miami missed at the buzzer.
Most of the talk will be about the final set with the Heat trailing by three. The play was originally designed for Wade, Erik Spoelstra said, but Orlando keenly switched on a pick. The ball found
Chris Bosh
who hoisted the first 3 attempt. Back iron, but
Mike Miller
tipped it out to
LeBron James
who found himself standing wide open at the 3-point line with four seconds left. LeBron actually hesitated for just a moment, as if he was looking for somewhere to pass. But with no option, LeBron fired, coming up short.
That makes LeBron 0-3 in game-typing 3-point situation in a last couple weeks. Have fun with that one, people that don't like LeBron.
But it's not about that last play. Because Miami should've never been there. They were up 24, remember! And get this: Wade and LeBron combined for two points in the fourth quarter. Two! Plus, the two they got were on a pair of gift free throws by Dick Bavetta. Take away a terrible call and Miami's two-headed monster go scoreless.
That's a problem, Miami.
How did we get there though? How Orlando even make this a game to start with? Was it more about the Heat falling on their face, or did the Magic just shoot the lights out?
A little of both, actually.
Miami absolutely bullied its way to a big halftime lead and stretched out to more in the third quarter. But where the Heat lost this game was a five minute lapse in the third quarter. With 5:30 left in the third, Miami led 73-54. Then
Jason Richardson
hit a 3. Then
Jameer Nelson
hit one. Then Richardson hit another. By the time the third period buzzer sounded, Orlando had whittled Miami's lead down to nine. Instead of looking at an overwhelming double-digit lead against the Heat, the Magic had a workable margin ahead of them with 12 minutes left.
And the 3-point barrage continued. Richarson hit two more (6-8 for the game),
Gilbert Arenas
dropped a pair and before you knew,
the Magic
held a seven-point lead. The flip was almost jarring. How does this happen to the Heat? How do they let Orlando go 16-29 from 3 and basically just shoot their way back into a game?
Because
Dwight Howard
wasn't a major factor offensively for Orlando as he scored only 14 (18 rebounds though). Howard did a nice job drawing attention and moving the ball out and Miami never adjusted to shooters.
Without the 3-point shot, Orlando doesn't come close. Funny how basketball is like that. If the Magic are slightly off, they probably lose by 10. But Thursday, they hit 16 and were a plus-39 from 3, which made up for every difference there was elsewhere.
It's kind of hard to imagine the Heat losing a game where LeBron and Wade combine for 57 on 21-33 shooting. That looks nice in the final box score, but the fact is, most of that came in their fun first half. For the first time this season, Wade and LeBron both dropped at least 20 in the first 24 minutes, but they were unable to follow up late.
Is this a growing problem for Miami? In games that get or stay close, the Heat don't seem to have the ability to close and execute. At first it kind of seemed like an abberation.
Oh, they've got two great closers. They'll be fine.
But this isn't the first time the Heat have folded in crunchtime. The offense continues to look disjointed and unorganized while a team like Orlando slickly moved the ball to marksmen, waiting for them to drill from deep.
And again, for added emphasis, LeBron and Wade scored two points in the fourth quarter.
Erick Dampier
had seven. Seven! Problematic, cause for concern or just plain horrible? All of the above.
Don't misundertand though, the Heat are a better team than the Magic. But on Thursday, the Magic were hot and when they get that way, they beat most everybody out there. Can Orlando rely on that for seven games against the Heat? Absolutely not. But there is certainly a level of confidence for Orlando to walk away from this game with. They know they can beat the Heat and can even do it without Dwight Howard dominating.
This win is more about the Magic's fight than it is about the Heat's collapse. At least to me it is. Blowing a 24-point lead in your own building is really, really bad, but it takes a focused opponent to make you pay for falling asleep at the wheel. And the Magic did.
Orlando needed to win this more than the Heat needed to not lose. Not just because the two teams don't like each other, but Orlando is looking to finally starting building on something. And Thursday night, they laid a big block.