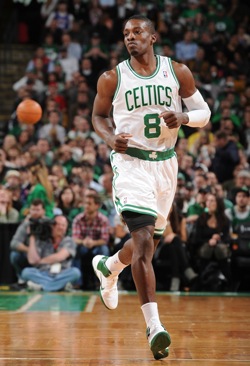 Posted by Royce Young
When
Jeff Green
was dealt to the Boston
Celtics
last week, the consensus on the Celtic side of things was that this was a move for the future. Green at just 24 years old, was a younger player that could potentially be part of the long-term for the team.
The problem with that line of thinking is that everyone seemed to forget that Green is a restricted free agent this summer. And if Boston couldn't afford
Kendrick Perkins
, Green might be equally as difficult to re-sign.

Green told the Sporting News that a new contract hasn't been discussed yet,
but he'd still like to stay a Celtic in the future, if possible.
"I mean, sure, this is a great team and the future is bright for this team with the pieces that we have," Green said. "If it comes to (signing a long-term contract), yeah. It hasn'tcome up, though, not at all. We're focused on getting to the Finals and winning a championship. The contract extension is something that, yeah, I would like that, but it is something that I am going to hold off on."
Discussions between Green and his former team (the
Thunder
), were always positive, but never resulted in an agreement. While Green's former teammate
Kevin Durant
received a maximum extension over the summer, Green negotiated with Oklahoma City, eventually deciding the number wasn't right and that he'd become a restricted free agent.
The Thunder of course just extended Perkins, the player Green was dealt for, for four years and $35 million.
"Yeah," Green said, smiling. "I saw that."
Green turned down one offer from the Thunder with one source telling me that it wasn't near as good as the one Perkins signed.
The Celtics though are likely focused on keeping Green though, otherwise their trade sending fan favorite and championship center Perkins out of town would be for nothing. Meaning they could've just kept Perkins the rest of the way. So obviously re-signing Green is something Boston wants to do. But it comes down to where Green fits and how much money he wants.
So far, he's struggled a bit fitting in to a new role off the bench for the Celtics. He's gone from starter averaging almost 40 minutes a night to playing just 18 minutes a night. With Boston, he's averaging just 6.0 points per game, down from 15.0 with the Thunder.
But again, it's a new role and a new team for Green. It's something he's getting used to and with
Paul Pierce
being 33, Green might find more time on the floor in the future. However, Pierce is locked up with Boston through 2014 though, meaning the player in front of Green is going to be around for at least three more seasons.
Green though is a versatile guy and really finds most his value in that. He can slide between small forward and power forward, defending both positions while also stretching out to the 3-point line offensively.
He's an interesting case though because with the Thunder, he was a main part of their core rotation, meaning he was going to warrant a good contract. With Boston, he's just a role player meaning he might have to take less to stay. I really don't know what to think about it honestly. On one hand you have to think Boston re-signs Green so that they don't come up empty handed in the Perkins deal but on the other, can they even afford to?
To somebody, Green is a starting small forward capable of averging 16-20 points a night and probably worth $8-10 million a year. Will his value take a hit though because of the role change in Boston? I don't really think so. But still, if the Celtics want to keep him, they've got to be willing to pay too. But it might not make sense for them to do it.
It's just so confusing, really.