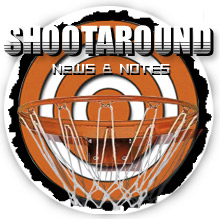 Leon Powe could be a Grizzly, Raymond Felton could be a sidekick, Andris Biedrins could be a volcano, and Dwight Howard could be an MVP, all in today's Shootaround.
Posted by Matt Moore
Leon Powe
visited Memphis Wednesday
which could help towards the
Grizzlies
signing him. With
Hasheem Thabeet
shipped off to Memphis, the Grizzlies need a frontcourt reserve like Powe, even if only for limited minutes.
The
Kings
owners, the Maloofs, met with
mayor Kevin Johnson on Wednesday
. Typical political talk afterwards and no real progress.
Hassan Whiteside
's
season is over
and he'll have surgery on Friday. Because, you know, the Kings need bad luck right now.
In case you missed it,
Ken Berger talks
to
Chris Paul
about his knee, New York, and the
Hornets
' struggles.
George Karl thinks having Raymond Felton and
Ty Lawson
at once
is a good problem to have
.
Doc Rivers has
no problem with the "super teams."
Probably because he helped form the first one in Boston in 2007 that set off this whole thing.
Donnie Walsh
is committed
to
Chauncey Billups
for the long-term. Which is odd because Chauncey Billups' long-term isn't that long.
Andris Biedrins blew up at his coach when Smart told him he was starting
Ekpe Udoh
,
and almost didn't come out to play
. Easy solution for you, there, Andris. Play better.
There's a lot of concern about
DeMarcus Cousins
having hit the rookie wall
.
Dwight Howard says most
MVP's are picked before the season starts
. If he keeps playing the way he has lately, that's going to change.