LeBron James tweets that he is "at war" and is supported by his "soldiers." Posted by Ben Golliver.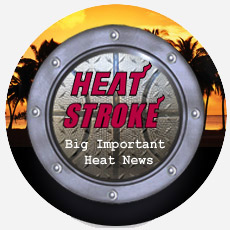 In what has the potential to spark another silly national controversy, Miami
Heat
forward LeBron James
took to Twitter on Wednesday afternoon to write
: "20+ games left in phase 2. I'm ReFOCUSED! No prisoners, I have no friends when at WAR besides my Soldiers."
James' statement is already drawing comparisons to a
famous 2003 rant
by former University of Miami football player Kellen Winslow, who compared football to war and called himself a soldier. The comments drew criticism because the United States Military was engaged in the Iraq War at the time, and Winslow quickly
issued an apology
. The damage was done, though, and the incident has stuck with him ever since.
The Winslow incident was a classic example of an athlete re-appropriating military language without a second thought as to the repercussions. I never understood the criticism of Winslow because it didn't seem like he had bad intentions and he was clearly fired up after an emotional game. It seemed like an odd time and place for us as a nation to expect maximum clarity and deference.
The military and their families deserve the utmost respect in our country, and no doubt James will draw criticism for his tweet, which some might think trivializes those who are actively serving the country by comparing that service to a game. But, as a country, we ask our athletes, especially the most handsomely paid ones, to take their jobs as seriously as possible, and we regularly criticize players, including James, for not living up to a supposed competitive standard by teaming up with other fellow stars like
Dwyane Wade
and
Chris Bosh
.
We shouldn't want it both ways. Are James, Bosh and
newly-acquired point guard
Mike Bibby really "soldiers"? Of course not. They'd probably laugh or squirm at the notion if forced to confront that thought head on. But a competitive, focused James is far better for the game of basketball than a complacent or distracted James, even if he went overboard in his metaphors.
Here's hoping James isn't unnecessarily bombarded with criticism on this one.