The Utah Jazz have announced that they signed head coach Tyrone Corbin to a "multi-year contract." Posted by Ben Golliver.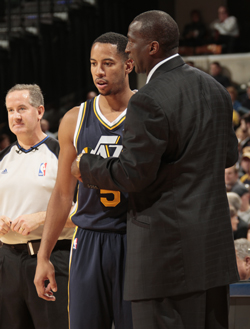 The past month has arguably been the most hectic in decades for the Utah Jazz. Longtime head coach and franchise icon Jerry Sloan
abruptly resigned
. Almost as abruptly,
the team traded
franchise point guard
Deron Williams
to the New Jersey
Nets
for
Devin Harris
and
Derrick Favors
.
On Wednesday, the Jazz took a step towards restoring order by
announcing the signing
of head coach Tyrone Corbin to a "multi-year contract."
"I am confident that Tyrone is the right man to lead this team into the future. He is someone with longstanding ties to the Jazz and this community, and who has embraced the core philosophies and ideals this organization holds true. I feel that his character and leadership qualities will be true assets to the Jazz moving forward for many years to come," said Greg Miller, CEO of the Utah Jazz.
"I am really excited about the opportunity to lead the Jazz, and to get to follow a legendary figure like Coach Sloan," said Tyrone Corbin. "I am truly grateful that the Miller family has the confidence in me to allow me to lead this team into a new era."
Yahoo Sports! reports
that the contract "runs two years guaranteed through 2013, with team option for 2013-2014."
Corbin took over the reigns from Sloan in an emotional press conference,
handling a difficult moment with class and dignity
by deferring the spotlight to his former boss. Unfortunately, his Jazz are in a bit of a freefall, having lost eight of their last 10 games to fall out of the Western Conference playoff picture. Their playoff hopes seem to dim by the day.
Despite the recent losses, Jazz fans have to like this signing because it represents both continuity and change. Corbin played for Sloan in the early 1990s and served under him as an assistant coach for the past seven years. But he was clear upon his hiring that he would provide a new voice and work to establish his own relationships and systems, a necessity for any first-time head coach in this league much less one who stepped into a difficult situation.
For the last few years, Corbin has seen his name floated for various head coaching jobs and he's widely respected around the league. Keeping him in Utah is a nice win for the Jazz organization and their fanbase, which surely has its collective head spinning following the events of the last few weeks.