The Washington Wizards announced on Tuesday that they had bought out and waived forward Al Thornton. Posted by Ben Golliver.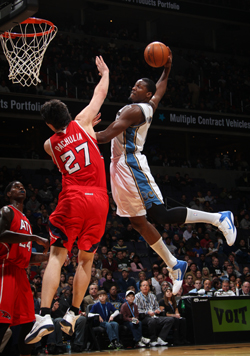 Just hours before the NBA's buyout deadline, the Washington Wizards announced that they have reached agreement with forward Al Thornton on a buyout and that he was being released. Team president Ernie Grunfeld cited a "logjam" on the wing as the impetus for hte decision.
Washington Wizards President Ernie Grunfeld announced today that the team has waived forward Al Thornton after coming to an agreement on a contract buyout.
"The additions of Rashard Lewis and Mo Evans combined with Josh Howard's return from injury gave us a logjam at the small forward spot," said Grunfeld. "Coming to terms on a contract buyout with Al was mutually beneficial, as it allows us to clear space in the rotation and allows him the chance to pursue an opportunity with another team."

Thornton was originally acquired from the L.A. Clippers in a three-team, six-player deal on February 17, 2010. He appeared 49 games for the Wizards this season, averaging 8.0 points and 3.2 rebounds.
Thornton, a 2007 lottery pick by the Los Angeles Clippers, was averaging 8.0 points and 3.2 rebounds in 21.8 minutes per game for the Wizards. He was on the books for $2.8 million this season.
Soon after the news broke,
the Washington Post reported
: "Not at all surprised by Al Thornton buyout. Some around league thought he was going to get thrown in the Atlanta deal. He was unhappy in DC."
Thornton is talented - although not overly so - and nice as a rental for the rest of the season, especially if you can get him at buyout prices without needing to sacrifice assets.
In that vein,
ESPN.com reported
that Thornton could be headed to the Golden State
Warriors
: "Sources close to the situation tell ESPN.com that Al Thornton, freshly bought out by Wizards, is Golden State-bound if he clears waivers."
The Oakland Tribune also reported
that the Warriors are expected "to sign Al Thornton, who was bought out by Wiz."
Yahoo! Sports clarifies
that the deal is only a rental for the remainder of this season.
Currently, the guard-dominated Warriors split their wing minutes between
Dorell Wright
(39.0 minutes per game),
Reggie Williams
(21.6 minutes per game) and
Vladimir Radmanovic
(16.6 per game). Given the heavy load Wright is playing, Thornton should have a chance to carve out some meaningful time.