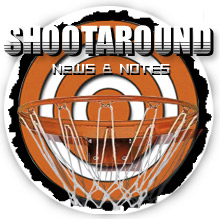 Nets have big plans for Big Howard, small markets are "the relative boonies," and Evan Turner gets a shooting coach.
Posted by Matt Moore
The Nets
plan to pursue
Dwight Howard
. Good thing no one else has that plan for 2012.
Tony Parker
is
out 2-4 weeks with a calf strain
. It's the first major injury for the
Spurs
this season, which goes a long way towards explaining why they're at the top of the West.
The
Clippers
are
bringing in veterans who "know how to win."
This is a classic case of putting the cart before the horse.
Al Jefferson
will not back down
to
Kevin Garnett
. He'll lose to him, sure, but not back down.
The Sixers
have hired a shooting coach
for Evan Turner.
George Karl
is relieved at having everything over
, and you can sense it in how he's coaching this
Nuggets
team.
A writer contends that the
"relative boonies" deserve no sympathy
in the NBA.
The
fans are already chanting
Deron Williams
' name in Jersey.
If you missed it,
Ben Golliver takes a long look
at the
Gerald Wallace
trade.
And we
give you the rundown
on all the top buyout targets.