Posted by Royce Young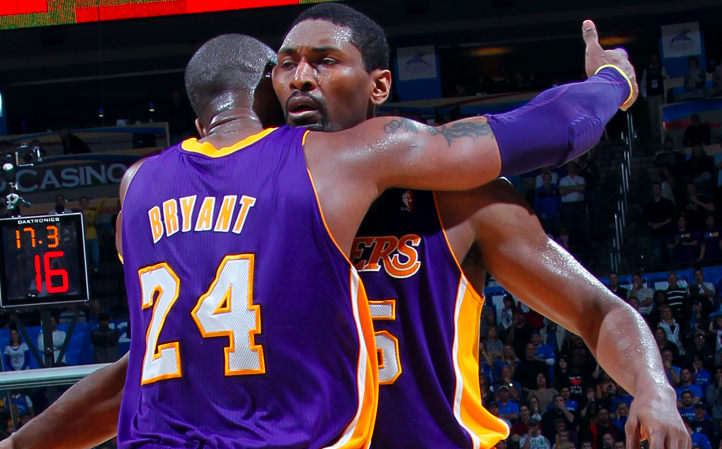 OKLAHOMA CITY -- For the first time since
Pau Gasol
broke
Thunder
fans' hearts, the
Lakers
returned to the scene of the crime. They returned to the daunting arena that claimed them twice in the playoffs last April and a place where they escaped from by the skins of their teeth in a classic opening round Game 6.
And just like the last time these two teams hooked up in Oklahoma City Arena, it came down to the final buzzer.
The Thunder missed two game-tying 3-point attempts with 10 seconds left as the Lakers slid past OKC 90-87 in a playoff-like atmosphere.
Kevin Durant
got a pretty clean look after curling off a
Nick Collison
screen, but his attempt rimmed in-and-out. Collison tipped the ball back out again with it ending up in
James Harden
's hands. But Harden's 3 went begging just long.
"I got a good look. Once I let it go, I thought it was good and James felt the same way," Durant said. "It was kind of like the rest of the game, I just felt like nothing could go our way. We just have to keep pushing it along, keep fighting and staying positive."
The game was physical, the refs let them play (just 34 combined free throws) and like a postseason battle, the ball didn't go through the hoop easily. After combining for 107 points in the first half things tightened the last 24 mintues as the two squads teamed up for just 70.
Kobe Bryant
will get his usual amount of credit for icing the Thunder late and while he did hit two big shots the last four minutes -- including a tough baseline jumper with 56 seconds left that put the Lakers up three -- he also finished the game 1-4 and really isolated himself from the team in the last five or six possessions. A lot of that credit goes to the Thunder though, who defended Bryant beautifully. Between James Harden and
Thabo Sefolosha
, Kobe was just 8-22 from the floor for 17 points and never really had a single clean look.
But the Lakers saw extremely balancec scoring with four starters in double-digits, with three almost touching 20. Gasol had 18, Bynum 16 and Bryant 17. The Lakers played as they do when they're at their best. Impossible to match up with in the halfcourt because of
Lamar Odom
's versatility combined with the size of Bynum and Gasol. Even with the Thunder focusing so hard on taking away Kobe, the Lakers are still difficult to stop.
Of course as everyone watched this Thunder team Sunday, the question that hung on everyone's brain was if
Kendrick Perkins
would've really changed things. He was acquired for exactly this type of game against a premier front line, so how much impact would he have made? I can tell you, a lot. Because without him,
Serge Ibaka
was forced to play center against Bynum where he fought valiantly with 13 rebounds and two blocks, but never had a chance offensively. Ibaka had just six points and was never able to establish any kind of pick-and-pop game with
Russell Westbrook
.
If you add Perkins to the mix, not only is he able to guard Bynum thus making OKC's front line much bigger, he also opens up the Thunder a bit offensively. Not because he's contributing anything, but mainly because he can get Bynum off of Ibaka.
But this is the new Thunder. They've revamped the roster and while none of the new guys actually played (
Nazr Mohammed
and
Nate Robinson
were DNP-CD's), the team definitely has a new look.
This is the first time the Thunder have dropped three in a row this season and it's not hard to blame them. They just wrapped up playing the
Spurs
and
Magic
on the road, then returning home to play the defending champions Sunday.
"I think it says a lot about our guys that we haven't lost three in a row until now," Scott Brooks said. "The spirit of our guys is always on a high level. We'll bounce back with a couple of days of good practices and be ready for Wednesday night."