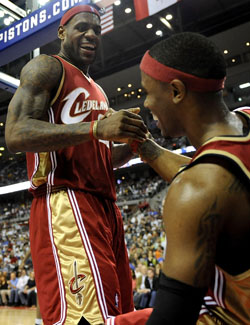 Daniel Gibson and LeBron James feud over comments at a Cleveland party.
Posted by Matt Moore
One would think that LeBron James woulnd't pay much attention to what goes on in Cleveland anymore. It's not really of any consequence to him, and most anything is going to reflect him in a bad light if it does apply to him. But apparently he keeps his ear to the ground.
ESPN reports
that a feud touched off on Twitter Friday night following what may be the single dumbest conflict of the year.
Apparently at a birthday party for himself late Friday night, Gibson declared himself the "new king of Cleveland" during a toast. That's where the trouble began. Now, before we continue, let's break out why this statement was stupid.
First off, it's Cleveland. Claiming you're king of it is just seems weird. That's a city with a pretty rich history of sports. Even if there's a lot of failure, pain, and suffering attached, they've had their fair share of celebrities. You can't just go and take that title, especially with a pronounced history as a friend of James.
Second, your name is Boobie Gibson. Just try running it off the tongue. "King Boobie." In the long list of Kings, that would have to be at the bottom. Even King Daniel Gibson doesn't really sound right. I wouldn't take it personally, very few people's names sound like Kings (especially not Carl Landry's after Wednesday).
Third, it's Daniel Gibson. You lost 25 games in a row. You're a backup guard on the worst team in the league. Perhaps you should start smaller. Like "royal court official of Cleveland."
So what's the big deal?
Apparently LeBron James took umbrage. He
tweeted Saturday morning
:
I wake up this morning to hear somebody got real fly at the mouth at their party lastnight. I see where we stand now even though I sense it!
I suppose it's assumed that along with asserting himself as said King of Cleveland, Gibson said some disaparaging remarks about James. So just so we're clear, LeBron James is responding to Daniel Gibson because of comments in Cleveland where he no longer plays.
Gibson responded
:
Complaining about someones tweets is like complaining about the channel & you got the remote in your hands..
James responded:
Like my OG Otie say at the time,"Get out your feelings"
Oh, burn...?
It was at this point that cooler heads prevailed, and apparently James and Gibson talked on the phone. James claimed "the air has been cleared." So apparently they're cool again. This is the second time the two have clashed since James left Cleveland, the first coming when James visited Cleveland for the first time as a member of the
Heat
.
There's obviously some raw feelings as Gibson was with James the entire time in Cleveland only to see him abandon the city and leave him behind. They were said to be friends, and apparently still are. If James is for any reason still holding onto the moniker of King of Cleveland, he needs to stop padding down the River Denial and land ashore.
Basically, a big lesson we've learned this year? Don't make toasts if you're an NBA player. Ever.