Chris Paul is a fierce winner as well as arguably the league's best point guard. But are his career goals holding him back until the playoffs come? And wait, he think he's most like Isiah Thomas? We break down Ken Berger's interview with CP3 for this week's "In the Moment."
Posted by Matt Moore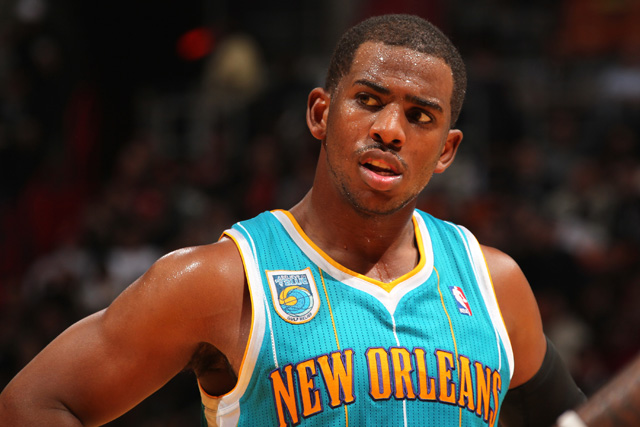 Chris Paul has always been a bit different from his contemporaries in one distinct notable aspect. He wants to win. More than anything else, more than the fame and fortune, he wants to win. Of the players representing this "brat pack" like conglomeration of All-Star friends including
LeBron James
,
Dwyane Wade
, and
Carmelo Anthony
, no one wants to win as badly as Chris Paul. Wade wants to win, that much is evident. He's driven. But he's also a business unto himself, and a fashion and media star. He's basically building an empire the way LeBron wants to except without all the negative public reaction and bad decisions. But Paul? Paul wants it more. It's why his trade demand from last summer has simmered into a cool and patient wait to discuss his options, why he's consistently playing through pain, and why the
Hornets
are back to being a top team in the West, within sight of a first-round homecourt advantage.
It's the biggest x-factor in the free agent movement expected to occur.
Dwight Howard
wants to win, but has shown little of the focus and responsibility necessary to take a franchise like Orlando on his admittedly massive shoulders instead of bolting to somewhere he can get that smiling face even more air time.
Deron Williams
is apparently simply more driven to be happy than anything else, as he left a team that has consistently moved to contend because they were tired of his complaints. But Paul? Paul can be satisfied with winning. That's what matters to him. He wants all the rest of it, the money, the notoriety, the parties, the endorsements. But in his list of priorities, building the Chris Paul Empires comes after winning. Not just a championship. Consistently. As much as he can. He's a fiend for it. It's what makes him such a tremendous player, even more than the brilliant vision and astounding precision.
Take for example his interview with Ken Berger for CBSSports.com's In the Moment series:
"I think it's just guy's trying to win. This league's getting dangerous. There are a lot of really good teams at times at the top. You just want to put yourself in a good situation, in terms of longevity and things like that. Guys just want to win multiple championships if at all possible."
That's Paul talking about all the superstars teaming up in Miami, New York, etc., a trend that began in 2007 with the formation of the Boston Big 3, and continued with the addition of
Pau Gasol
to the Los Angeles
Lakers
. And that's how Paul sees things. Not in the context of parties, endorsements, fun and games. For him it's all about victories and championships. The days of being willing to wait until you're an established veteran are over. In an era of players wanting what they want, when they want, how they want it, Paul's only concerned with winning. If that means bolting to a big market to play with better players than former All-Star
David West
and talented center
Emeka Okafor
, so be it. the Hornets have to prove to him they can win.
That's probably partially because unlike his contemporaries, even injury-rattled Dwyane Wade, Paul has felt the drag of poor health, even this season. Chris Paul is simply not at full strength, is obviously struggling. It's been evident from his explosiveness right down to how he's functioned in crunch time. Friday night's coaster win over the Wolves was an easier time of it for Paul than he's had as of late. Hornets blog At The Hive noted this recently, before the All-Star break:
f you're a Hornet fan, you're probably terrified. I know I am. The guy that was blazing his way to Best Point Guard of All Time status as recently as 2010? He quite literally stood around doing nothing for multiple possessions, multiple minutes a time. He ceded control to Willie Green (who was fantastic), to Trevor Ariza, to anyone he could see. Multiple times, he stopped mid-drive to throw awkward, forced passes to teammates behind the three point line who weren't expecting it. Multiple times, he brought the ball up, handed off to a teammate, and went and hid in the corner till the shot clock expired.
We got a flash of the old Chris Paul for sure. His move in the second quarter where he crossed inside out from the baseline, drove the lane, looked off two defenders, and slipped the ball to Jason Smith for the slam? Surreal. Absolutely surreal. Nobody else in the NBA makes that play.
But that's exactly what makes this new Chris Paul so difficult to stomach. We know his game and his limitless potential. We've seen him drag this team from nothing to the brink of everything. We know who Chris Paul is supposed to be. We may not see it on every play, the way we did in 2007-2008 or 2008-2009. But it's still there. There's a reason Chris Paul is still far and away the NBA's leader in win shares over names like LeBron James, Dwight Howard, Kobe Bryant. Chris Paul, from November to January, was still amazing, and if we're being fair, that should carry far more weight than one god-awful road swing.
But to be a fan is to concentrate, to a large extent, on the here and now. And at present, the here and now is not pretty.
via
On Chris Paul - At The Hive
.
At the Hive went on to say they expected the return of "the real Chris Paul" on Wednesday following the All-Star Break, and sure enough, since the break Paul has averaged 18 points, 6 rebounds, 9 assists in two games, both wins. Granted, they were over the
Clippers
and Wolves, but you've got to start somewhere.
The bigger issue is that it's not like Paul hasn't shown his "real" self this season. He's flourished at times. He's been an MVP candidate, for crying out loud. But for those who have intently watched the games, his deference late in games cannot be denied. We're not just talking about throwing to the open man for the assist instead of going to the jumper or floater. We're talking "walk the ball up, give it to David West, and go stand in a corner." In key situations, Chris Paul should always be initiating the offense. Always. That this has happened consistently despite bursts from Paul shows an ongoing issue, one that won't be solved with a four day break and a few easy wins over lottery teams.
And with Paul's drive, it leaves you to wonder how healthy he is. Then again, it could be Paul's simply learning what Wade has learned, like Kobe Bryant before him. There are times to kick it into that higher gear, and times to coast. Paul knows the Hornets are a lock for the playoffs. Resting his body is really the better option. But with his attitude, with his drive, it must be killing him to hold anything back. But at the same time, that word, longevity, keeps creeping into Paul's words. Consider this quote from In the Moment about what point guard he most thinks he's like.
"Definitely Isiah Thomas, maybe a little bit of Allen Iverson the way I go at the refs at time. Those guys are unbelievable. I think the thing about those guys is that they did it for a number of years. I think that's what I always admired the most about John Stockton. I came in the league, I looked at his steals record and assists record, and I wanted to try and break it. Man, that guy never missed a game. That longevity is something ghat pushes me. I look at Steve Nash, how he remains healthy. I look at Jason Kidd, not only has he been in the league a long time, he's still productive. I don't want to be one of those guys who's in the league, year 17, and I'm not productive. "
BREAKING NEWS: CHRIS PAUL COMPARES HIMSELF TO ISIAH THOMAS, IS OBVIOUSLY HEADED TO NEW YORK!
Sorry, just had to screw with the New York media a little bit. Ka-ching.
But you notice that whole paradigm Paul's expounding. Wanting to play long-term. Wanting to be around for years. Wanting to still be productive when he's older. The only way to do that is to hold yourself back. It's what makes fans sour on the NBA so much, stars who no longer burst out of the gate, no longer kill themselves every single game. It happens to all great players. It'll happen to
Blake Griffin
. And it may have happened to Chris Paul.
But the real question that will decide not only Chris Paul's future but possibly that of professional basketball in New Orleans, is what Chris Paul shows up in the playoffs. Our bet?
The one that wants to win, no matter who's on his side.