Posted by Royce Young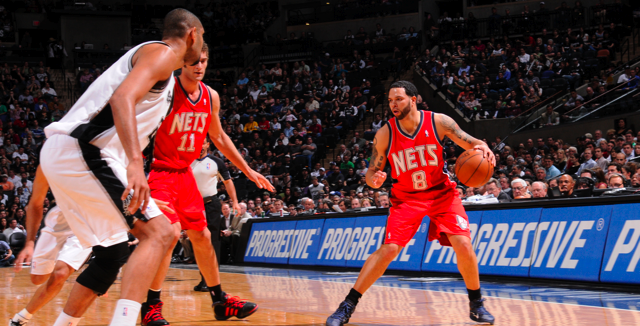 Unlucky for
Deron Williams
and the
Nets
that their first game together had to come against the NBA's best team. That can tend to make things tougher.
Williams wasn't bad but wasn't his normal stellar self either in the Nets 106-96 loss the
Spurs
Friday night. Williams played 41 minutes scoring 14 points on just 5-13 shooting, but he did distribute the ball well to his new teammates dishing out 12 assists.
The Nets were clearly going to be in a state od disarray offensively as the team tried to fit in around Williams. Coach Avery Johnson said before the game they'd have to "wing it" in the first game with Williams. And for a half, it was working. The Nets were hanging tight, actually holding a 54-53 lead at the break.
Where it caught up to them finally was in the third quarter where the veteran Spurs made adjustments to the Nets "wing it" offense and locked down New Jersey. The Spurs took the third 35-18 and pretty much had the game in hand from there on out.
But Williams' impact was unmistakable. He gave the Nets a bit of a new life offensively with his ability to create for himself or dish to an open shooter.
Anthony Morrow
was on the receiving end of a number of Williams' gifts, going 7-11 from the field for 25 points. The team was obviously better because, you know, they had maybe the best point guard in the league making plays for them. That tends to help.
Williams has walked into a situation much different that the other stars that have moved around. He's gone from a playoff contending team to a team potentially contending for the worst record. It's quite a switch. But on top of that, he doesn't have the luxury of joining up with another All-Star on the roster. In Utah, he had some really good players around him. In New Jersey, he has
Brook Lopez
and 13 other role players.
There is absolutely no doubt that the Nets are better right now. We're all going to forget how good Deron Williams is over these final two months of the season as he toils away on a horrible Nets team. As
Derrick Rose
carries the
Bulls
into the postseason, as
Chris Paul
makes incredible plays for teammates,
Rajon Rondo
piles up assists and
Russell Westbrook
scintilates through the air, we're going to forget just how terrific Williams is. It happens when a player like him ends up on a team that's stuck in motion.
The Nets have a long way to go not just in improving the roster and getting into playoff contending status, but also in terms of convincing Williams the Nets franchise is a worthy place to be. Getting him was a huge coup. Keeping him will be an even bigger one.