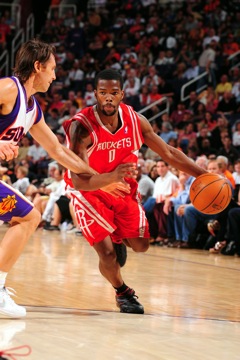 Posted by Royce Young
Any other deadline day,
Aaron Brooks
going to Phoenix would feel like really big news. But in week where roughly 10 percent of the league was traded, included something like eight All-Stars, it sort of got overlooked.
The Rockets have been talking about moving Brooks for some time as he's kind of soured in Houston. They're fine with handing the team to Kyle Lowry and heck, maybe even Dragic now who is a pretty good point guard. They also get a nice first-round pick from Phoenix, which is always an added bonus.

Houston was itching to make some kind of deal the entire deadline. For whatever reason, Daryl Morey wanted to move some pieces around. The Rockets kept trying to say they weren't moving Brooks, but the closer things got, the more obvious it was getting. Houston wasn't committing to him long-term, he was souring in his role with the team and wasn't getting along with Rick Adelman.

Strike one, two and three.

The Suns on the other hand, get last season's Most Improved winner and a decent heir to Steve Nash's throne. Of course Brooks is a restricted free agent so something will have to be settled there, but Phoenix likely didn't make this deal just to let Brooks walk. At some point they will need a new point guard and Brooks looks to be their man.
Again, the key is figuring out how Brooks fits in long-term. If Phoenix isn't willing to pay him, then all they ended up with was two months of backup duty and a small improvement over Dragic at that position.
So it's clear the the Suns will do everything necessary to keep him. He should fit well into the up-and-down system Alvin Gentry runs and as a scoring point guard, will likely enjoy his role. He's got to get back to the player he was in 2009-10 though. He has to find the confidence and playmaking ability that won him the Most Improved trophy.
The Rockets didn't get any worse with the trade, but definitely didn't improve. The pick is the nice part for them. Phoenix on the other hand may have gotten a steal, but that's only if they can find the old Aaron Brooks.