The Charlotte Bobcats have traded forward Gerald Wallace to the Portland Trail Blazers. Posted by Ben Golliver and Royce Young.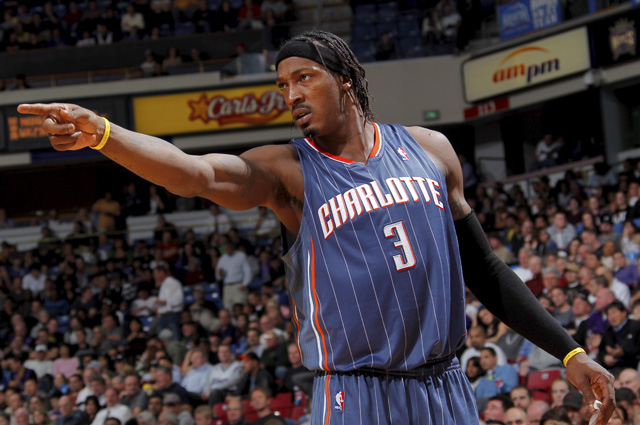 Portland Trail Blazers receive Gerald Wallace from the Charlotte Bobcats
by Ben Golliver
Years of rumored interest culminated on Thursday when the Portland Trail Blazers acquired Charlotte Bobcats forward Gerald Wallace for reserve center Joel Przybilla, reserve forward Dante Cunningham, reserve center Sean Marks and two first round picks.
Wallace, famously nicknamed "Crash", is a prototype for the type of basketball Blazers coach Nate McMillan likes to play: hard-nosed, aggressive, versatile, two-way and old school. He will find himself in like company alongside Blazers guard Wesley Matthews and forward Nicolas Batum, who both share his enthusiam for defense and high-intensity play.
This trade does not push the Blazers over the top into the realm of championship contention, but the fact that it didn't require Portland to give up any of its major assets makes it a trade more than worth doing. None of the pieces sacrificed were critical or irreplaceable, and allowing Przybilla's contract to expire this summer wouldn't have helped the Blazers financially, as they are almost certainly committed to being over the cap for the foreseeable future thanks to long-term contracts already given to Aldridge and Roy, as well as big money that will need to be committed to center Greg Oden. As for the picks, the Blazers can always purchase draft picks in the future as they often have in the past. This trade comes down to cashing in multiple smaller assets into one big chip, a move the Blazers have been hesitant to make in previous years, much to their fans' collective disappointment.
Pulling the trigger on this trade simply boiled down to whether Wallace was worth adding to the roster at his salary price of $10.5 million. Given his all-NBA defensive pedigree and the fact that two major division rivals – the Utah Jazz and Denver Nuggets – lost their franchise players this week, that question feels like a no-brainer. The Blazers get better, without a doubt, while the competition got worse. Portland is now poised to compete for the Northwest Division title and has improved its chances of winning a playoff series, something that would mean a lot to Allen and his management team given how injuries to Roy and Oden seemingly derailed the team's carefully-constructed championship blueprints.
The trade leaves Portland thin in the frontcourt, but the Blazers have found success playing small ball lineups because of a string of injuries this season, and Wallace should fit nicely into that plan. When the Blazers move LaMarcus Aldridge to center, McMillan will be able to use Matthews, Batum and Wallace nearly interchangeably on the perimeter. The rotation could get tight, though, when guard Brandon Roy continues to make his comeback from knee surgery but the Blazers could opt for a big lineup with Roy playing the point guard spot on offense and defending off the ball on defense.
A few questions remain: Are there enough minutes for both Batum and Wallace, how will Portland address the age of key players like Andre Miller and Marcus Camby and where will Portland turn to address its lack of frontcourt depth? But this trade made the Blazers better this season and it didn't meaningfully compromise their future flexibility. That adds up to a strong start for first year GM Rich Cho.
Charlotte Bobcats receive Joel Przybilla, Dante Cunningham, Sean Marks and two first round picks from the Portland Trail Blazers
By Royce Young
It had been something on the table this entire season. It was whispered by many, but it didn't appear that the Bobcats were going to get serious about truly blowing up the roster and starting anew.
Wednesday, there was a lot of chatter that Charlotte was in active talks with Portland about sending former All-Star Gerald Wallace to the Blazers. And after a good amount of back and forth with one report saying Michael Jordan was getting cold feet, it finally happened.
Wallace is headed to Portland for Joel Przybilla, Dante Cunningham, Sean Marks and two first-round picks. The Bobcats decided to set fire to the roster and it was about time.
The price of this trade is the two first rounders, but also Przybilla, whose contract is up after this season. Charlotte is now setting itself up to actually rebuild, instead of just treading water.
They are still in the Eastern playoff hunt and they'll likely slip from there, but it's worth it. That just means they get another lottery pick this season. At some point, hanging on to mediocrity just isn't worth it. If you're actually going to contend and make a dent in the tough top tier of the East, you've got to do better than what Charlotte was putting out.
Yes, losing Wallace hurts. He was under contract through next season and had a player option in 2013. He was making almost $10 million which isn't a ton, but it was painfully clear that he wasn't the type of player that really was going to be a true building block. He's a great player, a great rebounder and a good scorer. But the Bobcats need to find a new identity and the best way to do that is by creating financial flexibility and stockpiling picks.
In this NBA atmosphere, you're either trying to contend now or build for later. The Bobcats had caught themselves in a Bermuda Triangle in between of being good enough to win sometimes, but never with a vision to actually be a true contender. The step to blow up and is rebuild isn't easy and that's why Jordan probably hesitated, but this was the right move.