Celtics trade Kendrick Perkins and Nate Robinson to Oklahoma City for Jeff Green and Nenad Krstic.
Posted by Matt Moore and Royce Young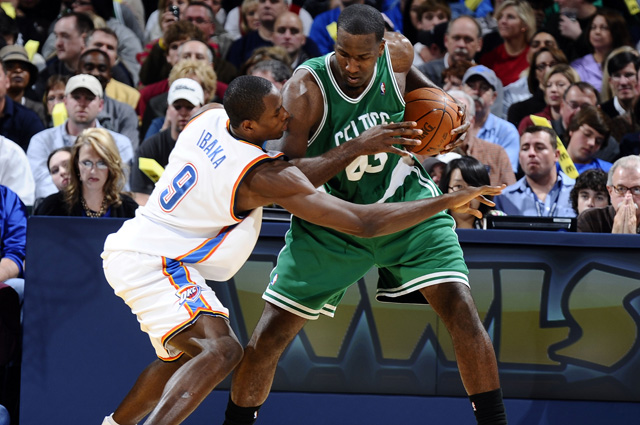 It's only fitting that in one of the biggest trade seasons in NBA history, that we ended the deadline in completely insane style. Multiple outlets including Yahoo! Sports first reported and Ken Berger of CBSSports.com has confirmed that the Boston Celtics has traded Kendrick Perkins and Nate Robinson to Oklahoma City for Jeff Green, Nenad Krstic and a 2012 1st round pick. Here's our analysis of the trade (updating as more information becomes available).
OKLAHOMA CITY RECEIVES: KENDRICK PERKINS, NATE ROBINSON
by Royce Young
There has always been a very specific ideology for Sam Presti in Oklahoma City. Build a group of young players that can grow and develop together. It started in 2007 when he took
Kevin Durant
No. 2 overall and acquired the fifth pick Jeff Green for
Ray Allen
. From there, the pieces started to fit.
And this
Thunder
team jumped way ahead of schedule, winning 50 games last season. Because of that, the slow development process sped up. There was an obvious opportunity to win now, and while the existing team was definitely good, there was always something missing.
Most of that centered around Green and his starting power forward spot. There always appeared to just be something missing there. He was undersized, didn't fit well next to Nenad Krstic and lacked on the glass and the defensive end. He could hit big shots and make big plays, but is was always clear that something wasn't right.
So Presti put his finger on the big red button and finally pushed it. He sent Jeff Green and Krstic to Boston for Kendrick Perkins and Nate Robinson.
A bittersweet say for Thunder fans as Green was a clear fan favorite. He was always close with teammates Kevin Durant,
James Harden
and
Russell Westbrook
. He was always seen as one of the core members of this group. But in the world where what counts is wins and losses, not how much fun you have and how well you get along off the court, it was a deal that had to be done.
The Thunder already was uncertain about Green's future, choosing not to sign him to an extension earlier in the season. He was set to become a restricted free agent this summer and even there, he was likely to get an offer that would be out of the Thunder's comfort zone.
While Perkins is also an unrestricted free agent, he fits what OKC would be willing to pay for. The Thunder tried to lock down a defensive-minded center two years ago when they traded for
Tyson Chandler
. But that deal was rescinded because of Chandler's physical and it put OKC back to work finding that help inside.
But what the Thunder did here was make a move for the now, finally. At the same time though, it doesn't jeopardize the future in any way. Green wasn't a sure thing in OKC anyway, and now Perkins gets a two month audition to earn a contract with the Thunder. OKC has improved itself against the beastly interiors of Los Angeles and Dallas and now can match up with anyone.
It came at a cost of sending out one of the city's favorite players and a close friend and teammate with Durant, Westbrook and Harden, but it had to be done. At some point, you've got to win. And the Thunder's trying to do it now.
BOSTON RECEIVES: JEFF GREEN, NENAD KRSTIC, AND A 2012 FIRST-ROUND PICK (Top-Ten Protected)
by Matt Moore
This is going to go down as more about what Boston surrendered rather than what they got. They did not get an elite player back, so trading the franchise starting center who helped them win a championship and nearly a second had he not suffered a severe injury is going to raise a lot of voices in Beantown. The Celtics have always made it clear they are about winning championships at any cost. They love the members of their organization, but this is a business, and their business is staying on top for as long as the Big 3's window is open. Something convinced them that Perkins was no longer able to lead them to a championship. So they flipped him and Robinson for what they considered their biggest need: a wing scorer. That he can serve as a stretch four, which is a considerable weakness to them as currently constructed, is a bonus. Green represents an odd representation: the move to win now, and to set themselves up for the future.
Green is an RFA this summer, meaning they can decide whether or not to sign him based on whether he helps them win a championship or not. Krstic, on the other hand, is an expiring contract. Should they renounce both Green and Krstic, that's close to $10 million they're freeing up in the event of a dramatically lowered CBA, or if they feel the need to retool to go at a championship once more. If both help them win a second title with the Big 3, they can easily re-sign both to keep them in town.
But at the end of the day, the Celtics surrendered Kendrick Perkins. Perk! The big man! The biggest reason that Boston was able to match up with
Dwight Howard
. Now they'll be turning to a very old core of
Shaquille O'Neal
,
Jermaine O'Neal
, and Krstic to try and combat Howard. That's a risky proposition. The Celtics do not lack for confidence. They must feel they can overcome the
Heat
, the
Magic
, and the
Bulls
without their starting center. Either that, or his knee was enough of an issue to force them to trade him.
Perkins only came back about a month ago from serious knee surgery that kept him out of the Finals' Game 7 last season. He has looked good at times but struggled in others. Tuesday night against the
Warriors
he tweaked the knee and did not return, limping off the floor. Two days later, he's traded to Oklahoma City. The Celtics may have felt they could not risk him going down to injury again, with how much their team depended on him. So they pulled in the taller, bigger, Krstic, who has a nice mid-range shot Perkins does not, and acquired a stretch four.
Stretch fours have long disrupted the Celtics' defensive schemes, with players like
Chris Bosh
,
Rashard Lewis
, and
LaMarcus Aldridge
hurting them with their ability to hit from the mid-range, while Boston's defenders shade to the paint. Green can step out and defend those players, and also provides them a young, athletic option who can hit from the perimeter. Green's a gamble, though.
One element that's likely in play here is the Celtics' pushing for a player soon to be bought out. The most obvious target is
Troy Murphy
, traded to the Warriors from the
Nets
during their acquisition of Deron Williams in a separate deal. Murphy is expected to be bought out of his contract, and would provide a versatile big for the Celtics. If not Murphy, then another candidate could take his place, considering how much space the Celtics have cleared with this and other moves.
This whole trade is a gamble, and it's not sure why the Celtics would risk their continuity after the year they've had. But one thing's for certain. Things have gotten even more interesting in the already wild Eastern Conference.
Vote fo who won the deadline in our Facebook Poll :