A one-stop shop for all of Thursday's NBA trade deadline buzz. Posted by EOB Staff.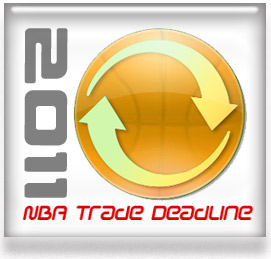 Wednesday was insane. That's the only word for it. Insane. And we have more stuff on the horizon.

Here's a list of everything that's happened thus far:

- Boston sends Marquis Daniels to Sacramento for cash [ANALYSIS]

- Gerald Wallace goes to Portland [ANALYSIS]

- In a big one, Kendrick Perkins goes to Oklahoma City [ANALYSIS] ; [TRADE TRACKER]

- Aaron Brooks goes to Phoenix for Goran Dragic [ANALYSIS]

- Hasheem Thabeet was sent to the Rockets [ANALYSIS]


(Latest Buzz)
With just minutes to go before the deadline, here's a potential big fish. ESPN.com reports: Sources close to the talks told ESPN.com that the Cavaliers and Golden State Warriors have been discussing trade scenarios Thursday that would send Jamison to Oakland. One source briefed on the talks said the discussions are ongoing but that no trade agreement has yet been reached.
The Rockets are bearing down to try and get Marcus Camby, via KB . All attempts to extricate Camby have failed thus far, but the Rockets and Blazers have been talking for a while.
Two dark horses in the Western Conference have come forward in the Anthony Parker talks, via KB .
Yahoo! reports the Cavaliers are still chasing offers for Anthony Parker, but it's getting late in the afternoon to be toying around. Celtics still in the tent.
KB reports the Bobcats turned to the Rockets and Cavaliers after talks with the Blazers broke down for Gerald Wallace. Cleveland's not interested, and must be shopping only for draft picks.
Via ESPN , talks broke down today of a move to send Aaron Brooks and Shane Battier for Marcus Camby. Portland is pretty much submarining all of its talks, wanting huge return.
Per NBA.com: Suns won't trade Dudley. Contenders including BOS and CHI were interested.
Sam Amick reports : "Because the Sacramento Kings are under league minimum payroll, they're on lookout for a trade in which they get cash to cover salary of player coming back."
KB reports it's either for Brooks or Jared Jeffries, and that picks are being discussed. This looks like a terrible deal for Daryl Morey from the onset.
We said earlier Jonny Flynn was on the market. Apparently the Rockets, for some bizarre reason, are aiming at getting him according to ESPN . This would surely have to be in conjunction with moving Aaron Brooks for something, otherwise the Rockets are spending assets to acquire a sub-par point guard.
T.J. Ford could be headed for a buyout, according to Berger . Miami and Portland have interest. Portland is particularly interesting since it could be a sign they're still looking to move Andre Miller. This would be the second Pacer bought out in two years, after Jamal Tinsley last year.
The Celtics could be up to your typical shady trade-buyout-re-sign deal, but this time it's even more shady considering the circumstances. Ken Berger reports that the Celtics, having had no luck getting anyone to bite on Nate Robinson plus a pick, are considering moving Marquis Daniels. The deal is of course structured to have the team take on Quisy's salary, then buy him out, at which point he re-signs with the Celtics. But with Daniels out after a scary neck injury, that may not happen should he be unable to return this season. Still, trading the guy who had a spinal injury on your squad?
ESPN reports that Toronto has made rebounding Reggie Evans, within sight of returning from injury, available. He could garner some quick floods of interest, given his veteran status and rebounding ability.
Ken Berger reports that with the Sixers on a win streak, Andre Iguodala is off the market. Because, really, a three-week win streak is what you want to make decisions off of.
Chris Vernon of 730 AM in Memphis reports that there have been discussions between Houston and Memphis regarding a swap involving Shane Battier and Hasheem Thabeet. There are obviously other pieces involved as Shane Battier is a good player and Hasheem Thabeet is not, but the conversations are open, though not close. The Commercial Appeal reports the trade involves Memphis also sending a first round pick to Houston, which is too much for an aging Battier. Which means Memphis will probably do the deal.
ESPN reports that the Mavericks plan to make a last-ditch effort at Tayshaun Prince today before the deadline. It's a perfect fit for the Mavericks, but for whatever reason, the Pistons are turning down every advance for Prince. Because, really, when you're facing a rebuilding effort, you want to keep those big, long-term contracts as long as possible. Dallas is also reportedly interested in J.R. Smith. Apparently they fill they have a need at "crazy two-guard."