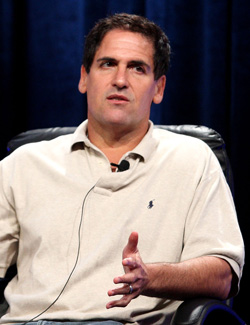 Posted by Royce Young
Mark Cuban is never afraid to tell you what he really thinks. It's one of the reasons I love him. He's been one of the most outspoken critics about the league's purchase of the New Orleans
Hornets
and with the franchise's recent transaction bringing in
Carl Landry
, Cuban had some thoughts.
"That's just wrong. That's just wrong. That's just absolutely, positively wrong,"
Cuban said before Wednesday's Dallas-Utah game.
"I'll probably go against the grain from everybody else, but that is so far wrong that it's not even close."
The Hornets sent Marcus Thornton and cash to the Kings for Landry, who's in the final year of his contract and making $3 million. Thornton was on the end of his rookie contract, making just $762,195.
New Orleans' payroll increased about $2.24 million. But the extra cash paid to the Kings is what miffed Cuban. Easy to see his point to.
"There's so few teams in the league that can afford to do that and yet we're allowing a team that's owned by the league to do that?" he said.
It's been a topic of discussion ever since the league bought the Hornets for around $300 million. Questions have lingered around how the team would handle payroll and money with the NBA paying the bills.
Like the Mavs owner said, not very many teams can afford to do that. I highly doubt the Hornets under previous owner George Shinn would've felt all that comfortable making that move. Here, the league is giving the Hornets an unfair competitive advantage. Like Cuban said, that's pretty wrong. I suppose it's speculation to figure Shinn wouldn't have sent cash, but keep in mind the Hornets have been trying to slash payroll and expenses for the past few years.
Cuban was asked if there was anything he could do, he said: "What am I gonna do? That's wrong. Beyond wrong ... I don't need to be competing economically with the league and myself."